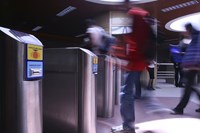 The funding serves to expand Bytemark's team of 58 employees to meet high demand from public transit operators. Bytemark has experienced exponential growth since its foundation in 2011. Today it serves over 20 transit operators processing USD 30m worth of tickets per year.
Bytemark Inc. announces a USD 9.5m funding round. The mobile ticketing specialist welcomes Siemens Venture Capital (SVC) and init AG as new shareholders. Existing shareholder HaCon Ingenieurgesellschaft mbH also participated in the round. In addition to the capital increase, the investors also acquired shares from Bytemark's early investor, Billybey Holding Company, who will be a minority shareholder going forward.
Riders on public transit increasingly use smart phones to look up trip times and optimal routes. Purchasing a mobile ticket is the next logical step in the customer journey. In addition to the traditional ways of distributing tickets and travel passes, public transit operators also want to provide high quality mobile ticketing services to their riders. Existing implementations prove the viability of the technology and of mass consumer adoption: New York Waterways already sells 50% of its tickets through Bytemark's white-label mobile app.
Micah Bergdale, co-founder and CEO of Bytemark comments: "We are excited to welcome SVC and init as new shareholders alongside HaCon. We have been collaborating with HaCon and init for the past two years and the synergy is evident to all of us. Together we provide complete solutions that cover the full gamut of ticket sales, that deliver real-time travel information, and that meet the needs of transport operators to verify the validity of passes."
Dr. Gottfried Greschner, founder and CEO of INIT Group states: "We conducted a global survey to find the best technical solution for mobile ticketing. Bytemark came out on top. Bytemark and Init already have three joint projects and customers are very pleased with the results."
Dr. Detlef Pohl, Investment Partner, Siemens Venture Capital adds: "SVC brings more to the table than financial clout. We are looking forward to supporting Bytemark in leveraging Siemens´ global presence to expand into new regions and help to develop the organization."
Michael Frankenberg, CEO of HaCon says: "Bytemark has proven to be a reliable partner and effective sales channel for HaCon. We see a lot of untapped potential to grow together going forward. This is why we are happy to participate in this funding round to add to our existing stake in Bytemark."
Nicolas von Stackelberg advised Bytemark in this transaction. Michael Zaino of Wachtel Missry LLP acted as legal council.
About Bytemark Inc.
Bytemark, Inc is a leading provider of cloud-based mobile ticketing solutions with deployments on bus, rail and ferry services. Bytemark is working to bridge the gap between the transit industry and the growing demands of the connected passenger. Launched in NYC in 2012, Bytemark continues its rapid growth with offices in Edinburgh, Toronto, Sydney, and Bangalore. For more information, visit www.bytemark.co
About Siemens Venture Capital
Siemens Venture Capital (SVC) invests in early stage technology companies and established technology growth companies, focusing on the areas of electrification, automation and digitalization and hence plays a key role in Siemens in earlyinnovation network. The aim is to identify innovative solutions from which Siemens and its customers can profit and to strengthen business partnerships with innovative industry players. To date, the company has invested in about 180 start-up companies worldwide. For more information, visit http://www.siemens.com/venturecapital.
About INIT
INIT is a worldwide leading supplier of integrated planning, dispatching, telematics and ticketing systems for buses and trains. It has been assisting transportation companies worldwide since 1983 in making public transport more attractive, faster and more efficient. INIT's unique knowledge with regard to the needs of public transportation, gained in more than 400 successfully realized projects, has resulted in a fully integrated range of solutions for all key tasks of a transportation company. INIT is listed on the German stock exchange (XETRA:IXX) www.initag.com
About HaCon
HaCon creates and develops integrated software solutions for traffic, transport and logistics. With over 30 years of experience and a dedicated team of 270+ IT and transport planning specialists, HaCon has established itself as a leading European player for planning, scheduling and information solutions. In 2015, the Massachusetts Institute of Technology (MIT) honored HaCon as one of the "50 Smartest Companies" worldwide. The timetable information system, HAFAS, helps millions of passengers to plan their trips and always stay up-to-date during their travel. Combining all means of public and private transport, HAFAS-based journey planners handle over 100 million requests per day, providing multimodal transport chains in more than 25 countries. A powerful solution for train planning and capacity management, HaCon's TPS software enjoys a growing European user base. HaCon consults and assists its customers with projects in rail freight transport and combined transport. Headquartered in Hannover, Germany, HaCon also holds offices in Berlin, Paris and London. www.hacon.de