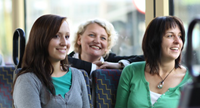 The Metropolitan Transit Authority of Harris County Texas (METRO) has partnered with INIT once again; this time for a state-of-the-art, bidding, time-keeping, and dispatching software solution (MOBILE-PERDIS). The new software will give METRO the ability to streamline labor- and time intensive tasks to better manage their nearly 1,600 vehicle operators.
METRO already uses INIT's CAD/AVL system, MOBILE-ITCS, so any daily changes to runs, driver assignments and trip activities will be managed via a bi-directional interface through the existing system. A link to a third party scheduling system will also be part of the work executed by INIT.
Using MOBILE-PERDIS, METRO will be able to meet their specific dispatching needs without extensive customization. Driving and work rules will be arranged in accordance to government regulations due to the data validity checks MOBILE-PERDIS continuously runs.
"MOBILE-PERDIS is an off-the-shelf solution with no built-in, pre-defined settings or site specific data. The large set of parameter editors allows agencies to uniquely organize the system and save money by avoiding extended development periods," Bridgette Holzapfel, Business Development Manager of INIT explains.
Precision Task Group (PTG) will be assisting INIT with the SAP payroll integration, as well as performing the WebComm training for all drivers. The WebComm module permits drivers or employees to access their personal assignments, absences, balances, run information, and messages. METRO employees will be able to bid through the intranet via kiosks located in garages, or by logging on to the internet.
About INIT
INIT is the worldwide leading supplier of Intelligent Transportation Systems and Electronic Ticketing Systems for public transportation.
INIT was founded in 1983 by Dr.-Ing. Gottfried Greschner as a typical university spin-off. In addition to its headquarters in Karlsruhe, Germany, INIT is represented in Hamburg, France, UK, Finland, in the United Arab Emirates (Dubai, Abu Dhabi), Singapore, Canada (Montréal, Toronto), Australia and in the US (Chesapeake, Virginia). The holding company init innovation in traffic systems AG has been listed on Germany's Neuer Markt since 2001. In the course of the reorganization of the stock exchange, INIT has switched to the Prime Standard of the Regulated Market as of 01.01.2003.