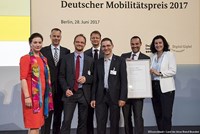 End of June, the "Germany – Land of Ideas" initiative and the Federal Ministry of Transport and Digital Infrastructure (BMVI) honoured ten digital innovations contributing to safe mobility with the German Mobility Award. Among the prizewinners was also the research project InREAKT, carried out by INIT, VBK and other partners and led by the Studiengesellschaft für Tunnel und Verkehrsanlagen e.V. (STUVA) [Research Association for Tunnels and Transport Facilities]. InREAKT provides an innovative digital solution to make mobility safer and more reliable.
The interdisciplinary team of researchers developed an IT-based system which automatically recognizes critical situations in a public transport environment and initiates appropriate measures to resolve the situation. A range of sensors detect incidents and pass the information on to a central emergency management system. The system classifies the incident and triggers an integrated assistance reaction chain, where appropriate. The project started in 2013 and was completed in 2016 with the development of a demo system.
INIT was particularly involved in the development of the central event management system for coping with dangerous situations, which makes employees in the control centre aware of incidents and supports them by providing appropriate recommendations for action.
About InREAKT
Imagine you are in a bus or train or at a station and you need help urgently – and no-one notices! Violence, damage to property and vandalism can mean that passengers using public transport – especially at night – may feel uncomfortable or avoid it altogether. Also employees of transport company can find themselves in safety-critical situations or experience medical emergencies. Effective emergency management is therefore a highly significant factor when it comes to building trust in public transport. The InREAKT system, developed through a project sponsored by the Federal Ministry of Education and Research, aims to do just this.
The core idea is the IT-based procedure of an integrated assistance reaction chain composed of the following elements: recognizing a person who needs help, reporting a detected situation, notifying emergency teams and intervening at the incident location. The project is entirely based on digital technology: for example, it uses optical sensors to recognise the situation, a software-based event management system with recommendations for action, which supports the transport company's control centre and was developed within the project by INIT, and a specially programmed employee app. All technical work was supported by accompanying interdisciplinary sociological research, to ensure acceptance among passengers.
By building integrated assistance reaction chains, InREAKT ensures better emergency management within public transport and an improved sense of safety. The solution builds confidence among passengers and employees and thus boosts public transport overall.
About the German Mobility Award
Around 170 start-ups, companies, associations and research institutions from all over Germany submitted their projects for the national award.
"Germany is the number one mobility country! With the German Mobility Award, we are promoting moving innovations made in Germany. Because with the best ideas we will become a trailblazer for Mobility 4.0," says Alexander Dobrindt, the German Federal Minister of Transport and Digital Infrastructure.
"The prizewinners show how digital innovations can make mobility even safer. With their creativity and their commitment, the project teams are making an important contribution to our country's readiness to face the future," comments Dieter Kempf, President of the Bundesverband der Deutschen Industrie e.V. (BDI) [Federation of German Industries] and President of the "Germany – Land of Ideas" initiative.
With the German Mobility Award, the "Germany – Land of Ideas" initiative and the Federal Ministry of Transport and Digital Infrastructure make smart mobility solutions and digital innovations visible to the public.
About INIT
INIT is the worldwide leading supplier of Intelligent Transportation Systems and Electronic Ticketing Systems for public transportation.
INIT was founded in 1983 by Dr.-Ing. Gottfried Greschner as a typical university spin-off. In addition to its headquarters in Karlsruhe, Germany, INIT is represented in Hamburg, France, UK, Finland, in the United Arab Emirates (Dubai, Abu Dhabi), Singapore, Canada (Montréal, Toronto), Australia and in the US (Chesapeake, Virginia). The holding company init innovation in traffic systems AG has been listed on Germany's Neuer Markt since 2001. In the course of the reorganization of the stock exchange, INIT has switched to the Prime Standard of the Regulated Market as of 01.01.2003.