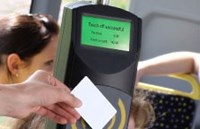 INIT makes another major step into the French market with the acquisition of the assets of LC Consultant and its dispatching software, called Webus, dedicated to public transport. Through the acquisition of the customers and skilled employees, INIT can strengthen its market presence. Meanwhile, the customers of LC Consultant can secure their investment in Webus and benefit from the long-term full support of a large and well-renowned company such as INIT.
Continued support for LC Consultant
LC Consultant is a French company that has developed and maintained a rostering and dispatching software for public transport companies, called Webus, for over 10 years. Its customer range comprises both, small and very large public transport operators, mainly in France. INIT has already been working together with LC Consultant in Greater Avignon. Part of the project consists of installing MOBILE-ITCS, INIT´s Intermodal Transport Control System, including planning and depot management systems which have been interfaced to the Webus dispatching system.
The LC Consultant team will stay based in Saint-Cloud, near Paris. It will keep its current activities in order to ensure the continuity of the customer relationship established through the years, while reporting to initperdis GmbH. The LC Consultant team will fully benefit from the expertise and know-how of initperdis.
initperdis – expert in dispatching drivers and vehicles
The initperdis GmbH is a subsidiary of the INIT group. Since more than 30 years, the initperdis team is specialized in personal assignment and planning for transport companies. Headquarted in Hamburg, Germany initperdis develops and maintain a dispatching system called MOBILE-PERDIS, that manages and optimises duties planning, personnel and vehicle assignment and offers a vehicle and depot management system. It is a modern system that supports dispatchers in their everyday work.
Connected to the Intermodal Transport Control System (MOBILE-ITCS), it ensures highly effective and improved processes and meets transport companies´specific requirements. Today, more than 120 transport companies managing between 50 and 10,000 drivers rely on MOBILE-PERDIS in Germany, the Netherlands, Austria, the United States, Australia, Finland, Denmark, Great Britain, Canada, etc.
About INIT
INIT is the worldwide leading supplier of Intelligent Transportation Systems and Electronic Ticketing Systems for public transportation.

INIT was founded in 1983 by Dr.-Ing. Gottfried Greschner as a typical university spin-off. In addition to its headquarters in Karlsruhe, Germany, INIT is represented in Hamburg, France, UK, Finland, in the United Arab Emirates (Dubai, Abu Dhabi), Singapore, Canada (Montréal, Toronto), Australia and in the US (Chesapeake, Virginia). The holding company init innovation in traffic systems AG has been listed on Germany's Neuer Markt since 2001. In the course of the reorganization of the stock exchange, INIT has switched to the Prime Standard of the Regulated Market as of 01.01.2003.