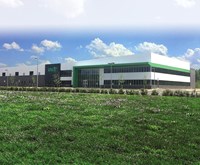 On Thursday, August 3, 2017 at 11:00 a.m., INIT Innovations in Transportation, Inc. will celebrate the grand opening of its new North American Headquarters building located at 424 Network Station, Chesapeake, Virginia.
The grand opening ceremony will include a formal ribbon-cutting and guided tours of the 67,000 square foot facility, which was completed in June of 2017 and cost approximately $12.5M to build. The building is constructed on eight (8) acres of land at the Oakbrooke Business and Technology Center.
INIT broke ground for the build out of the modern facility in May of 2016 to establish its roots in the North American market and in Chesapeake, as well as to integrate its formerly separate operations under one roof. The headquarters is now home to around 90 personnel, including 20 manufacturing employees.
"We are very excited to finally have our entire operations under one roof. This modern facility allows us to better serve our North American customers," says Roland Staib, INIT President & CEO. "The City of Chesapeake's Economic Development team was instrumental in helping make our dream home a reality."
The new facility has consolidated INIT's warehouses, operations, and two manufacturing firms - Total Quality Assembly, LLC (TQA), and Superior Quality Manufacturing (SQM). Altogether, the building features 20,000 square feet of manufacturing space, 20,000 square feet of office space, and a 27,000 square foot warehouse.
The City of Chesapeake's Economic Development Authority played a vital role in INIT's decision to build the new headquarters in Chesapeake, as well as the selection of land. Whiting-Turner Contracting Company of Chesapeake was chosen as the general contractor, with Tymoff+Moss Architects guiding the design of the building.
"Our business community is constantly growing and creating new jobs and opportunities," said Mayor Alan P. Krasnoff, "and INIT is a shining example of what happens when international companies choose Chesapeake."
"INIT is putting down deep roots in Chesapeake," said Mayor Krasnoff. "And because INIT believes in us and Chesapeake believes in INIT, the sky's the limit when it comes to a bright future for everyone."
INIT established its North American headquarters in Chesapeake in 1999 with a small staff of five from Germany. Since then, the company's evolution as the worldwide leading supplier of intelligent transportation systems for public transit has swiftly advanced.
The Grand Opening Ceremony will be attended by local City officials, media, and business partners, as well as The Honorable Dr. Alan P. Krasnoff, Mayor of Chesapeake.
About INIT
INIT is the worldwide leading supplier of Intelligent Transportation Systems and Electronic Ticketing Systems for public transportation.
INIT was founded in 1983 by Dr.-Ing. Gottfried Greschner as a typical university spin-off. In addition to its headquarters in Karlsruhe, Germany, INIT is represented in Hamburg, France, UK, Finland, in the United Arab Emirates (Dubai, Abu Dhabi), Singapore, Canada (Montréal, Toronto), Australia and in the US (Chesapeake, Virginia). The holding company init innovation in traffic systems AG has been listed on Germany's Neuer Markt since 2001. In the course of the reorganization of the stock exchange, INIT has switched to the Prime Standard of the Regulated Market as of 01.01.2003.