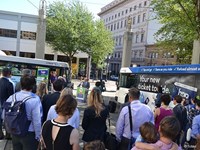 TriMet (Tri-County Metropolitan Transit Authority), C-TRAN, and Portland Streetcar launched Hop Fastpass (TM) – an electronic fare collection system implemented by INIT Innovations in Transportation, Inc. This regional e-fare system spans multiple agencies allowing transit riders to pay for trips on TriMet and C-TRAN buses, Portland Streetcar, MAX Light Rail, WES Commuter Rail or the C-TRAN Vine BRT system, all which operate within the Portland-Vancouver Metropolitan Area.
Hop Fastpass (TM) is a fully integrated e-fare system that can accept regular contactless fare media (Hop cards) and will accept contactless credit or debit card payments.
"The benefits of the Hop system will be far reaching, providing benefits not just for our riders but for the efficiency of our revenue operations as well as those of our fellow transit providers in the greater Portland-Vancouver metro area," said TriMet General Manager Neil McFarlane. "Our 15 year partnership with INIT has been and continues to be one that fosters growth, technical advancement, and effective process management."
Hop Fastpass (TM) is one of the first public transit e-fare system in the world to offer equity to passengers in the form of monthly fare capping. Riders have the benefit of earning daily and monthly passes – one ride at a time – without worrying about being charged more than the price of a day or monthly ticket.
Integration with several third parties was required for the system. Using an open API architecture approach, INIT seamlessly integrated with competitors and partners to deliver the project both on time and on budget.
Two of the agencies, TriMet and C-TRAN, already have INIT's operations control and real-time passenger information systems deployed. Due to the ease of INIT's modular systems, the INIT e-fare module was much easier and more cost effective to set up. This factor significantly contributed to the overall success of the project.
INIT's back-end processing software, MOBILEvario, serves as the core intelligence for the account-based, Hop Fastpass system. It manages and processes the multi-agency fare structures in real-time, recognizes and processes revenue sharing, as well as manages accounts and automates reconciliations.
Hop Fastpass (TM) can be used on more than 700 buses and rail vehicles, and at approximately 400 platform validators. Using the Hop website, Hop app, customer hotline, or the growing retail network, riders can manage funds virtually any time of day or night.
This system benefits the transit providers by reducing boarding times at stops, increasing efficiency and on-time performance, while simplifying fare collections and reducing cash in the system. The structure will benefit residents and visitors alike by providing an easy and worry-free way to enjoy getting around the Portland-Vancouver Metropolitan Area.
About TriMet
TriMet provides bus, light rail, and commuter rail service in the Portland metro area. Our transportation options connect people with their community, while easing traffic congestion and reducing air pollution – making our region a better place to live.
About C-TRAN
C-TRAN operates regular route bus services within Clark County. C-TRAN also provides express commuter services between Clark County, WA and various points in Portland, OR, including downtown and other locations.
About Portland Streetcar
Portland Streetcar operates three lines around 16-miles of track in Portland's Central City. It has been in operation for 16 years and has serviced over 54 million riders since its inception.
About INIT
INIT is the worldwide leading supplier of Intelligent Transportation Systems and Electronic Ticketing Systems for public transportation.
INIT was founded in 1983 by Dr.-Ing. Gottfried Greschner as a typical university spin-off. In addition to its headquarters in Karlsruhe, Germany, INIT is represented in Hamburg, France, UK, Finland, in the United Arab Emirates (Dubai, Abu Dhabi), Singapore, Canada (Montréal, Toronto), Australia and in the US (Chesapeake, Virginia). The holding company init innovation in traffic systems AG has been listed on Germany's Neuer Markt since 2001. In the course of the reorganization of the stock exchange, INIT has switched to the Prime Standard of the Regulated Market as of 01.01.2003.