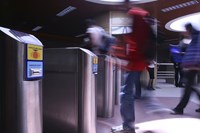 From June 14th to 16th 2016, INIT will be showcasing their latest state-of-the-art solutions at Transports Publics, the European Mobility Congress and Exhibition taking place in Paris. During the three days of the exhibition, visitors can take advantage of the opportunity to talk to experts, get to know more about INIT´s our integrated solutions and view the latest developments, in particular MOBILEvario, INIT´s ID-based ticketing solution.
Unique integrated solutions
Today, INIT is the only supplier in the world covering the complete range of tasks that public transport companies face with a fully integrated system for planning, dispatching, operations control and ticketing. INIT's exceptional performance is based on a simple philosophy: only perfectly integrated soft- and hardware solutions can develop their full synergy potential and provide maximum assistance to its customers in completing their complex daily tasks.
Transport companies can choose according to their needs. They either decide on a one-stop solution, including approved strategies for a smooth system migration, or on single modules that thanks to INIT´s holistic approach smoothly integrate into the existing system environment. Step by step they can be supplemented to build a fully integrated system. The use of standardized interfaces supports this flexibility in order to achieve a better service and attract more passengers, while allowing higher profitability and competitiveness.
Smart integrated, interoperable and multimodal ID-based ticketing
To provide greater convenience to their passengers, it has nowadays become a trend for public transportation companies to invest in modern fare collection systems. INIT has already installed more than 50 fare management systems worldwide and has now added a new milestone with the revolutionary ID-based ticketing solution.
In traditional card-based ticketing systems, much of the fare logic and data is hard coded on the cards in a data structure. As an alternative, ID-based or account-based systems hold the customer data and business logic in the backend system, such as MOBILEvario. The ticket medium itself only contains a unique identification number (ID) and is merely as read-only identifiers, authenticating the passenger and linking him to his account. Based on that scheme not only media issued by the transport company are accepted (closed-loop), but also any personalized e-ticketing media that the passenger already possesses, like EMV contactless credit or bank cards or NFC smartphones (open-loop). The use of Application Program Interface (API) creates an open architecture for the integration of hard- and software. Hence, third party can be cost-effectively integrated. Any transactions are communicated in real time to the backend system by each sales channel without the need to write information on the physical ticket media. The key challenge for an ID-based ticketing solution is the real time communication between all components. Thus the system is designed in such a way that network outages, bad cellular network coverage or hardware failures can be handled trouble-free. To allow smooth operation of the system in case of a communication disruption with the vehicle devices (offline information), the INIT fare validation logic is able to recalculate existing transactions. In the meantime, passengers are still able to board without delays as the field devices feature a fallback logic, allowing them offline validations based on business rules and white-/hotlists. With this approach, INIT can handle transactions from a bus that was offline throughout its whole shift. Neither the customer, nor the agency suffers any losses.
Experience makes the difference
In 2014, the port city of Turku in Finland has been the first INIT customer to migrate from a card based system to the ID based ticketing approach (260 vehicles). During an extended migration phase the system supported both modes in parallel, which allowed the introduction of several sales channels to the system without a negative impact for customers. The new ticketing system counts with no less than 100 000 transactions per day.
A few months later, Portland, Oregon decided to establish the first fully integrated ITS and ID-based ticketing system in North America (700 vehicles). The so-called Hop Fastpass™ smart card system for public transit is scheduled to launch in 2017. Besides closed loop fare media, the system will accept Apple Pay, Google Wallet and contactless bank cards as payment modes. Local suppliers have been taken under contract by the public transport operator TriMet for the distribution of fares, which is facilitated by standardized interfaces. Portland´s ID-based ticketing project has been extended to the neighboring city of Vancouver, WA (170 vehicles), making regional travels even more convenient for public transport users.
Continuing the success into 2016, three more ticketing system contracts were signed by INIT in the USA: Tampa, Florida for a region-wide electronic ticketing and fare management system (8 county transit agencies, 600 vehicles), followed by Grand Rapids, Michigan (150 vehicles) and also by Honolulu, Hawaii (525 vehicles).
About INIT
INIT is the worldwide leading supplier of Intelligent Transportation Systems and Electronic Ticketing Systems for public transportation.
INIT was founded in 1983 by Dr.-Ing. Gottfried Greschner as a typical university spin-off. In addition to its headquarters in Karlsruhe, Germany, INIT is represented in Hamburg, France, UK, Finland, in the United Arab Emirates (Dubai, Abu Dhabi), Singapore, Canada (Montréal, Toronto), Australia and in the US (Chesapeake, Virginia). The holding company init innovation in traffic systems AG has been listed on Germany's Neuer Markt since 2001. In the course of the reorganization of the stock exchange, INIT has switched to the Prime Standard of the Regulated Market as of 01.01.2003.