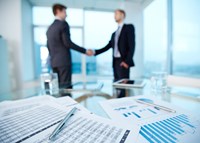 ticketing system contract signed with National Express West Midlands
the project covers supply of driver consoles, on-board computers, ticket printers, EMV- and ITSO-certified validators to equip 1,600 buses
The ticketing solutions of init innovation in traffic systems AG (ISIN DE 0005759807) are becoming increasingly widespread internationally in public transport. One of the five largest British public transport providers has now opted for a solution from init.
National Express West Midlands which is based in Birmingham has awarded a contract to INIT Innovations in Transportation Ltd, a wholly owned subsidiary of init AG, for the supply and installation of a ticketing system. The contract covers equipping 1,600 buses with driver consoles, on-board computers, ticket printers and EMV and ITSO-certified validators, as well as the service provision via a hosted back-office system. In addition to fast ITSO card-based transactions the solution enables the use of contactless bank cards for ticket payments. In addition init provides maintenance and other services to National Express West Midlands.
By winning National Express West Midlands as a new customer, it not only represents a further important milestone for init but it also leads to the further expansion of its presence in the UK. init is already well established in the East Midlands region close to Birmingham. Transport operators in and around Nottingham and Derby have also opted for init as a technology partner in the area of ticketing and fare management.
National Express Group is a leading public transport provider in the UK; and it also operates bus and rail lines in continental Europe, North Africa, North America and the Middle East. National Express has been active in Germany since 2013 and has been awarded the contract to operate a number of regional rail lines, mainly in North Rhine Westphalia. Most recently, National Express won the tender to take over the suburban rail lines in Nuremberg from 2018.
"National Express is not only an important new customer for us in the UK. As our solutions are in use around the globe, is this, of course, a key benefit for an international group such as National Express", says Jens Mullak, Managing Director of INIT Ltd.
About INIT
INIT is the worldwide leading supplier of Intelligent Transportation Systems and Electronic Ticketing Systems for public transportation.
INIT was founded in 1983 by Dr.-Ing. Gottfried Greschner as a typical university spin-off. In addition to its headquarters in Karlsruhe, Germany, INIT is represented in Hamburg, France, UK, Finland, in the United Arab Emirates (Dubai, Abu Dhabi), Singapore, Canada (Montréal, Toronto), Australia and in the US (Chesapeake, Virginia). The holding company init innovation in traffic systems AG has been listed on Germany's Neuer Markt since 2001. In the course of the reorganization of the stock exchange, INIT has switched to the Prime Standard of the Regulated Market as of 01.01.2003.
About National Express West Midlands
National Express West Midlands is the biggest single operator bus network in the country, with over 1,600 buses and nearly a million journeys each day.
National Express West Midlands is one of the largest employers in the West Midlands, employing over 5,000 people. National Express signed up to the UK's first Bus Alliance. This partnership will see £150 million invested by operators and partners between now and 2021 to tackle emissions, maximum fares and frequency.