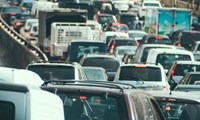 The UK Department for Transport (DfT) has announced that tech to cut congestion will get a £1.5 million boost through a government fund for councils and SMEs to promote trial projects.
The funding forms part of the Govtech Catalyst, a £20 million fund to help solve local transport issues through tech. The fund aims to help reduce the huge cost to the UK economy resulting from congestion by calming rush hour traffic and improving air quality and road safety for drivers.
The winning tech projects include software that monitors traffic and flags incidents in real time, tools which predict and tackle congestion by helping traffic controllers understand how to keep traffic moving, and the mapping of vehicle tracks to determine 'paths,' optimising and improving traffic signals in the city.
The three projects will be managed by the DfT for 12 months which will then determine whether the tech should be rolled out on a permanent basis.
Transport Secretary, Grant Shapps, said: "Congestion isn't just bad for our environment, productivity and communities – it also has a huge impact on our national economy. That's why, as well as our multi-billion-pound investment in rail and buses to improve connectivity, we are opening up city centre, transport and traffic management to new digital innovators."
"Transport technology is a growing global sector with the potential to help reduce congestion, emissions and improve connectivity. The competition winners show how world class UK transport tech companies are helping millions of people in our towns and cities every day."
About Intelligent Transport
Serving the transport industry for more than 15 years, Intelligent Transport is the leading source for information in the urban public transport sector. Covering all the new technologies and developments within this vitally important sector, Intelligent Transport provides high-quality analysis across our core topics: Smart Cities, Digitalisation, Intermodality, Ticketing and Payments, Safety and Security, The Passenger, The Fleet, Business Models and Regulation and Legislation.