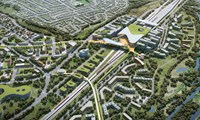 A £2.7 billion transport plan that aims to guarantee fast, frequent connections to the HS2 East Midlands Hub station at Toton has been published, promising to spearhead the region's economic renewal post-COVID-19 and accelerate the benefits of HS2.
Under the proposals, over 20 villages, towns and cities across the East Midlands will have direct access to the new HS2 transport hub, including Leicester, Nottingham, Derby, Newark, Matlock, Mansfield and Long Eaton.
Chairman of Midlands Connect and Midlands Engine, Sir John Peace, said: "The arrival of High Speed Two is a watershed moment for our region, and an opportunity that we must grasp with both hands. As we work towards an economic renewal post-COVID-19, the East Midlands must step forward and work together to secure the transport network, economic future and social mobility it deserves."
John continued: "This truly integrated transport strategy isn't just about connecting more people to the HS2 station; it will also support the building of new homes, accelerate transformational regeneration and link some of our most deprived communities to nationally-important assets across the East Midlands. It means spreading the benefits of high-speed rail to businesses and workers across the region, from our great cities of Derby, Leicester and Nottingham, to bustling towns like Mansfield and Loughborough and smaller communities that may otherwise feel HS2 won't benefit them. Our message to Westminster is clear; support us in making this vision a reality."
The vision is split into three phases – with the first earmarked for completion by 2030 – to stimulate development before HS2 trains first arrive in the East Midlands. These improvements are fully integrated with the work of the East Midlands Development Corporation, which has government backing to deliver 84,000 highly-skilled jobs and 4,500 homes at key growth sites close to the HS2 station at Toton, including East Midlands Airport, Chetwynd Barracks and Ratcliffe-on-Soar Power Station.
The East Midlands currently has the lowest transport spend per head of anywhere in the UK (£245) – 49 per cent below UK average (£483) and less than a quarter of that allocated in London (£1,019). If the East Midlands was funded in line with the UK average, it would receive an additional £1 billion to spend on transport each year.
Under this plan, the region will begin to see the creation of high-value jobs and housing, as well as improved transport connectivity and social mobility for some of the region's most deprived communities.
About Intelligent Transport
Serving the transport industry for more than 15 years, Intelligent Transport is the leading source for information in the urban public transport sector. Covering all the new technologies and developments within this vitally important sector, Intelligent Transport provides high-quality analysis across our core topics: Smart Cities, Digitalisation, Intermodality, Ticketing and Payments, Safety and Security, The Passenger, The Fleet, Business Models and Regulation and Legislation.