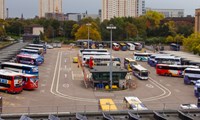 England's buses will continue to serve those who rely on them thanks to a funding boost totalling £397 million for vital bus operators, Transport Secretary, Grant Shapps, has announced.
New funding of up to £167 million will be paid over 12 weeks under the new COVID-19 Bus Services Support Grant. As a condition of the funding, bus operators will be required to maintain necessary services at a level which is sufficient to meet much reduced demand, but also to allow adequate space between passengers on board. This is expected to be up to 50 per cent of normal service levels.
Shapps said: "We have been very clear during the outbreak that the best way to stop the spread of the virus and protect the NHS, is to stay at home if possible."
"Our buses are a lifeline for people who need to travel for work or to buy food – including our emergency services and NHS staff – and it's absolutely vital we do all we can to keep the sector running."
"This multi-million-pound investment will protect crucial local transport links across England, bolstering the sector and minimising disruption for passengers in the long term." 
Operators will also be required to keep passengers properly informed about revised timetables to ensure that people know which services are running and when.
About Intelligent Transport
Serving the transport industry for more than 15 years, Intelligent Transport is the leading source for information in the urban public transport sector. Covering all the new technologies and developments within this vitally important sector, Intelligent Transport provides high-quality analysis across our core topics: Smart Cities, Digitalisation, Intermodality, Ticketing and Payments, Safety and Security, The Passenger, The Fleet, Business Models and Regulation and Legislation.