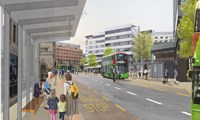 Work is to start on a major £8.9 million transformation of travel infrastructure on Infirmary Street in Leeds. The scheme is part of Leeds City Council's Connecting Leeds programme which has a focus on doubling bus use by 2026.
From 24 February 2020, Connecting Leeds will begin work to turn the city centre street into a two-way road designed for bus and cycle priority access with provision for local access for businesses and residents. Some bus stops will be relocated to areas with wider footways for passengers to wait, and bus facilities will be upgraded. Bus-only restrictions aim to create more space to improve bus journey time reliability, with the work expected to be completed by winter 2020.
The programme also aims to enhance public spaces as part of a strategy to reduce car dominance in the city centre.
Leeds City Council Executive Board Member for Climate Change, Transport and Sustainable Development Councillor, Lisa Mulherin, said: "These plans are the next step on our journey to improve public transport reliability across the city centre for the future, to improve cycling and walking facilities and a further step towards our aim of increasing the pedestrianisation of the city centre."
"It is important to us that the public are kept up to date with what is going on and we will endeavour to keep them informed by providing regular updates, particularly on factors such as relocation of bus stops and road closures."
Councillor Kim Groves, Chair of the West Yorkshire Combined Authority Transport Committee, added: "People regularly call for better local public transport in Leeds and through these Connecting Leeds schemes on Infirmary Street and Park Row, the work already underway on The Headrow and forthcoming works at the Corn Exchange and Armley Gyratory, we are investing tens of millions on doing just that."
"All these improvements are designed to support the increased use of buses by making them more reliable and punctual and to support our work to tackle climate change by easing congestion."
About Intelligent Transport
Serving the transport industry for more than 15 years, Intelligent Transport is the leading source for information in the urban public transport sector. Covering all the new technologies and developments within this vitally important sector, Intelligent Transport provides high-quality analysis across our core topics: Smart Cities, Digitalisation, Intermodality, Ticketing and Payments, Safety and Security, The Passenger, The Fleet, Business Models and Regulation and Legislation.