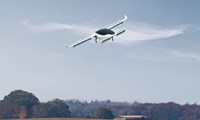 Lilium, the Munich-based aviation company developing an all-electric, vertical take-off and landing on-demand air taxi, has announced the completion of an internal funding round worth more than $240 million.
The new funds bring the total sum raised to date to more than $340 million and they will reportedly be used to support further development of the Lilium Jet as well as underpinning preparations for serial production in Lilium's newly-completed manufacturing facilities.
As well as designing and manufacturing the Lilium Jet, the company plans to operate a regional air taxi service as early as 2025 in several regions around the world. It recently celebrated the completion of the first stage of flight testing, with the five-seater Lilium Jet demonstrator flying at speeds exceeding 100km/h.
Commenting on the announcement, Christopher Delbrück, Chief Financial Officer, Lilium, said: "This additional funding underscores the deep confidence our investors have in both our physical product and our business case. We're very pleased to be able to complete an internal round with them, having benefited greatly from their support and guidance over the past few years."
"The new funds will enable us to take big strides towards our shared goal of delivering regional air mobility as early as 2025."
David Wallerstein, Chief eXploration Officer, Tencent, said: "At Tencent we're committed to supporting technologies that we believe have the potential to tackle the greatest challenges facing our world."
"Over the last few years we've had the opportunity to see the professionalism and dynamism with which Lilium are approaching their mission and we're honoured to be supporting them as they take the next steps on their journey."
About Intelligent Transport
Serving the transport industry for more than 15 years, Intelligent Transport is the leading source for information in the urban public transport sector. Covering all the new technologies and developments within this vitally important sector, Intelligent Transport provides high-quality analysis across our core topics: Smart Cities, Digitalisation, Intermodality, Ticketing and Payments, Safety and Security, The Passenger, The Fleet, Business Models and Regulation and Legislation.