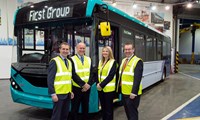 First Glasgow has announced its plans to invest in another 75 new ultra-low emission vehicles for Glasgow in 2019, which includes £400,000 of investment from the Green Bus Fund and an additional £16.35 million investment from First Bus.
This follows on from more than £14 million of investment in 2018, which highlights the city's largest bus operator's commitment to improving the quality of its offering whilst helping to improve air quality in the city.
Cabinet Secretary for Transport, Infrastructure and Connectivity, Michael Matheson, said: "It is good news that First Bus continues to invest in a modern fleet, manufactured here in Scotland, in partnership with Alexander Dennis. It is encouraging that First Bus have been able to take advantage of funds provided through the Scottish Government Green Bus Fund and move to new buses which offer significant carbon savings over the existing fleet."
"These new vehicles will help improve air quality and support the low emission zone which will shortly commence in Glasgow. The buses offer significant improvements in amenities and facilities, which I'm confident will help attract new customers, as well as being enjoyed by regular passengers. This is a positive step in our ambition to develop a low carbon economy."
"Buses have an important role in being part of the solution to improving air quality in our towns and cities. I welcome this investment which supports this government's sustainable transport ambitions, as well as being great news for the people of Glasgow and beyond."
Andrew Jarvis, Managing Director for First Glasgow, added: "We are committed to working with Glasgow City Council, Transport Scotland and the Cabinet Minister to improve the city's bus services. The bus is very much part of the solution when it comes to reducing emissions on our already congested roads as one full low-emission bus can take up to 75 cars off the road."
"By deploying our new Euro VI technology vehicles that offer more comfort and are eco-friendlier we are headed in the right direction, but I know that a lot more can be achieved with strong working partnerships as we look to make public transport a more attractive alternative to the car for more people."
"In addition to the 75 Glasgow vehicles, First Bus in Scotland will also be working with Scottish Power Energy Networks to introduce two electric vehicles to the city of Glasgow, as well as continuing to work with Aberdeen City Council on the next phase of hydrogen bus deployment in Aberdeen."
About Intelligent Transport
Serving the transport industry for more than 15 years, Intelligent Transport (formerly Eurotransport) is the leading source for information in the urban public transport sector. Covering all the new technologies and developments within this vitally important sector, Intelligent Transport provides high-quality analysis across our core topics: Smart Cities, Digitalisation, Intermodality, Ticketing and Payments, Safety and Security, The Passenger, The Fleet, Business Models and Regulation and Legislation. With articles from across the globe, we explore how and why industry decision makers operate the way they do, and examine how technology is changing the dynamics of transport.