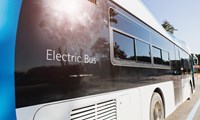 The UK Department for Transport (DfT) has announced that the period of applications for the all-electric bus town scheme, part of the government's better deal for bus users, has been extended from 30 April to 4 June 2020.
The winning areas will receive up to £50 million to help pay for a brand-new fleet of electric buses, which aims to reduce emissions and clean up the air in the chosen communities.
The £50 million fund is part of a total £170 million allocated to improve services and make bus journeys greener, easier and more reliable in the UK.
Transport Secretary, Grant Shapps, said: "Buses carry more people than any other form of public transport in the UK, and with 200 electric buses able to offset 3,700 diesel cars, it is clear they have a crucial role to play in bringing down emissions."
"But Britain's first all-electric bus town is just the start. Helping deliver on our manifesto promise, this package will help us to create communities which are cleaner, easier to get around and more environmentally friendly, speeding up journeys and making them more reliable."
"By focusing on efficient and affordable transport, we will make greener journeys the natural choice."
In light of the current COVID-19 crisis, the government also announced a new funding package of up to £167 million to support vital bus operators during decreases in ridership and ongoing uncertainties.
"Our buses are a lifeline for people who need to travel for work or to buy food – including our emergency services and NHS staff – and it's absolutely vital we do all we can to keep the sector running," Shapps said.
"This multi-million-pound investment will protect crucial local transport links across England, bolstering the sector and minimising disruption for passengers in the long term." 
About Intelligent Transport
Serving the transport industry for more than 15 years, Intelligent Transport is the leading source for information in the urban public transport sector. Covering all the new technologies and developments within this vitally important sector, Intelligent Transport provides high-quality analysis across our core topics: Smart Cities, Digitalisation, Intermodality, Ticketing and Payments, Safety and Security, The Passenger, The Fleet, Business Models and Regulation and Legislation.