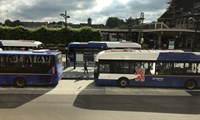 The Dutch province of Limburg has edged closer to meeting its ambitious zero-emissions target, with transport operator Arriva announcing it has reached the halfway point in its rollout of e-buses in the region.
Limburg is aiming to run zero-emissions public transport by 2026 – part of a wider plan in the Netherlands to ensure that all public transport buses are emission-free within the next seven years. E-buses, along with hydrogen buses, play a huge part in this, with Limburg one of the provinces leading the way in the Netherlands' zero-emissions efforts.
Arriva now runs a total of 95 e-buses in Limburg, following the recent introduction of an additional 55. Those 95 e-buses account for almost 50 per cent of Arriva's 200-strong bus fleet in the province.
The announcement comes as Arriva itself is also pushing to reduce its carbon footprint. The operator, which provides services across Europe, says it is working closely with public transport authorities to support them in meeting targets to tackle climate change.
"Arriva is committed to reduce carbon emissions, both by encouraging more people to use public transport and by minimising our own environmental impact," said Manfred Rudhart, CEO at Arriva. "By working closely with government and partners, we're introducing cleaner, quieter and more comfortable vehicles to our fleet across Europe in support of the climate change agenda and the transition to net zero emissions."
In a statement, Arriva said that the introduction of new vehicles reflects its ambition to deliver the quality and value for money transport solutions needed as part of a zero-emission future for public transport throughout Europe.
About Intelligent Transport
Serving the transport industry for more than 15 years, Intelligent Transport (formerly Eurotransport) is the leading source for information in the urban public transport sector. Covering all the new technologies and developments within this vitally important sector, Intelligent Transport provides high-quality analysis across our core topics: Smart Cities, Digitalisation, Intermodality, Ticketing and Payments, Safety and Security, The Passenger, The Fleet, Business Models and Regulation and Legislation. With articles from across the globe, we explore how and why industry decision makers operate the way they do, and examine how technology is changing the dynamics of transport.