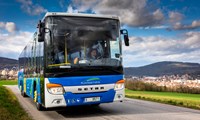 Arriva has week started a new 10-year bus contract in the Pilsen Region, in the south west of the Czech Republic – a contract that makes Arriva the principal bus operator for the area, which will benefit from the introduction of 315 brand new buses.
The new contract forms part of a wider re-organisation of transport operations in the Pilsen Region that includes an overhaul of the timetable and a reorganisation of some parts of the network, with due consideration to the impact of coronavirus.
A central control room will be established to enable better information sharing between Arriva and other transport operators so that problems can be more easily identified and addressed.
There will be a demand responsive element in the new contract. From August, customers in more rural areas will be able to make a request to be picked up from their nearest bus stop half an hour before departure. This can be done via telephone, online or by making a request on another Arriva bus service.
Speaking about the commencement of the new contract, Jana Siber, Arriva's Managing Director for Mainland Europe, said: "I am incredibly proud of the Arriva team in the Czech Republic for mobilising the contract against the challenging backdrop of global disruption to supply chains because of coronavirus. Mobilising a new contract that involves the introduction of 315 buses is no easy feat in this current time. Ensuring the safety of passengers and our people remains our key priority and we have measures in place to reduce the risk posed by coronavirus."
Each bus will be thoroughly cleaned overnight with strong disinfectant and passengers are expected to wear a face covering, in line with public health advice. The front two seats closest to drivers will be cordoned off and drivers have been issued with protective equipment.
Arriva is now responsible for the operation of 235 bus routes, which are mostly focused in and around the city of Pilsen. The 315 new buses are in a uniform blue, white and yellow livery, and include the logo for the region.
The new buses have been designed in such a way to ensure the most comfortable journey experience as possible. All buses are low floor making it easier to get on and off the bus. The seats have been designed with comfort in mind, including extra leg room. The buses also have Wi-Fi and phone charging points. Some buses will be equipped with audio visual announcements and information screens, displaying route and traffic information.
About Intelligent Transport
Serving the transport industry for more than 15 years, Intelligent Transport is the leading source for information in the urban public transport sector. Covering all the new technologies and developments within this vitally important sector, Intelligent Transport provides high-quality analysis across our core topics: Smart Cities, Digitalisation, Intermodality, Ticketing and Payments, Safety and Security, The Passenger, The Fleet, Business Models and Regulation and Legislation.