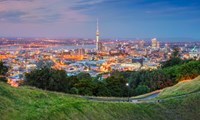 Auckland Transport (AT) has announced that it is going to proceed with a Registration of Interest (ROI) for an integrated design, engineering and construction partner consortium to deliver the remaining stages of the $1.4 billion AMETI Eastern Busway project, which will create a dedicated, congestion-free busway between major town centres.
Auckland Mayor Phil Goff said the decision to proceed with the next three stages of the Eastern Busway makes the project one of the biggest investment decisions across the whole of Auckland.
"Coming as we recover from the COVID-19-induced international recession, it will create a much-needed boost to jobs and incomes and assist Auckland's economic recovery," Goff said.
"This project will be transformational for regional public transport," Councillor Sharon Stewart said. "It will provide certainty and will help tackle congestion on our transport network," added Councillor Paul Young.
Minister of Transport Phil Twyford said the Eastern Busway is an important project which will help boost Auckland's post-COVID-19 economy and create jobs. "The Registration of Interest for stages two to four proceeding is another step closer to East Auckland finally getting the transport links it deserves and is part of our government's $29 billion transport infrastructure plan with Auckland Council," he said.
"It will help give East Aucklanders a congestion-free alternative to sitting in traffic and a less than 40-minute commute from Botany to the CBD."
Targeted for completion in 2025, stages two, three and four of the project will extend the rapid transit network, high frequency busway currently under construction between Panmure and Pakuranga, and from Pakuranga Plaza through to Botany Town Centre.
The project will include the congestion-free busway along Ti Rakau Drive, major stations at Pakuranga and Botany Town Centres, a flyover connecting Pakuranga Road with Waipuna Bridge, along with extensive cycling, walking, placemaking and environmental improvements.
AT will also include social procurement measures as part of the tendering process. This will require commitment from suppliers to deliver positive environmental, cultural, social and employment outcomes – such as local community employment and upskilling, during the design and construction phases.
About Intelligent Transport
Serving the transport industry for more than 15 years, Intelligent Transport is the leading source for information in the urban public transport sector. Covering all the new technologies and developments within this vitally important sector, Intelligent Transport provides high-quality analysis across our core topics: Smart Cities, Digitalisation, Intermodality, Ticketing and Payments, Safety and Security, The Passenger, The Fleet, Business Models and Regulation and Legislation.