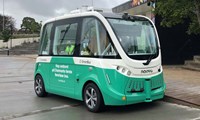 The Danish Minister of Transport, Benny Engelbrecht, has officially inaugurated the first autonomous bus service in mixed traffic in the suburb of Aalborg East in Denmark, as part of the SmartBus project.
With the inauguration, NAVYA has provided three AUTONOM® SHUTTLES for the daily operation in mixed traffic in Denmark. Two of these self-driving vehicles are operating simultaneously on the route every day in a pilot that will last two years.
The autonomous buses share a path with cyclists, while pedestrians have their own designated path. The 2.1 km route has 10 stops which have been built into the path with wheelchair accessible platforms.
"The residents of Aalborg East now have an accessible and easy way of moving around the area, and because of the long service hours, people will be able to use the bus most of their day. We are so excited to finally hit the road," said Christian Bering, Director of Technology, Data and Operations at Holo, the service operator.
"We are delighted to announce this first autonomous public road service in Denmark. It is the result of a long-standing partnership with Holo that paves the way for us in Denmark. Aalborg is an ideal environment to showcase the ways in which driverless vehicles integrate seamlessly in our daily lives and can serve as a model for other cities in Denmark," added Arnaud Rouault, VP Sales EMEA of NAVYA.
About Intelligent Transport
Serving the transport industry for more than 15 years, Intelligent Transport is the leading source for information in the urban public transport sector. Covering all the new technologies and developments within this vitally important sector, Intelligent Transport provides high-quality analysis across our core topics: Smart Cities, Digitalisation, Intermodality, Ticketing and Payments, Safety and Security, The Passenger, The Fleet, Business Models and Regulation and Legislation.