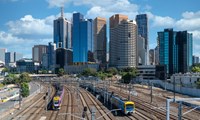 Around half of all people living in major Australian cities would abandon their private cars if they could travel up to five kilometres to a public transport hub by rideshare or taxi for a capped fare of $5, according to a survey by the University of Sydney Business School.
The survey, conducted by the School's internationally respected Institute of Transport and Logistics Studies (ITLS) ahead of the COVID-19 pandemic in February, found that New South Wales motorists (51 per cent) were the most likely to use taxis and Uber to access public transport services.
Less than half of the respondents in the other states, particularly those in South Australia, ACT, Tasmania, and Northern Territory, were likely to accept a capped fare offer.
Director of the ITLS, Professor David Hensher, said the "encouraging" results were evidence of the role rideshare might play as a first and last kilometre service supporting mainstream public transport.
"It opens up a need for a dialogue with government as to whether a subsidy scheme for the first and last kilometre might more than compensate for the levels of subsidy for the main public transport service by increasing patronage as well as reducing congestion on our roads in the large cities," he said.
"However, there remains the challenge as to how such attractive incentives could work in practice."
The Transport Opinion Survey (TOPS) also surveyed motorists on those features of public transport they believed should be given priority when it came to improvement, including travel time, service frequency, fare, crowding and reliability.
On a scale from one to five, 36 per cent of participants deemed reliability the top priority for improvement, followed by crowding with 28 per cent, and then fare, service frequency and travel time at 26 per cent.
"Public transport authorities continue to be challenged in our largest cities where there is unprecedented growth in public transport use, with crowding a major concern during normal periods of activity, but sadly not so during the COVID-19 pandemic," said Professor Hensher.
About Intelligent Transport
Serving the transport industry for more than 15 years, Intelligent Transport is the leading source for information in the urban public transport sector. Covering all the new technologies and developments within this vitally important sector, Intelligent Transport provides high-quality analysis across our core topics: Smart Cities, Digitalisation, Intermodality, Ticketing and Payments, Safety and Security, The Passenger, The Fleet, Business Models and Regulation and Legislation.