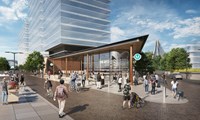 Construction is set to begin in 2020 on the Sydney Metro West, with seven station locations initially confirmed. The project is designed to reduce commuter travel times between Parramatta and the Sydney central business district (CBD) down to approximately 20 minutes – about half of the current journey time.
The first works will begin in the Bays Precinct and will include site surveys, investigations and early works such as road relocation, in order to prepare the site for major tunnelling works.
The locations of seven proposed metro stations have been confirmed, with the feasibility of further stations currently being investigated.
At Parramatta, the new Metro station will serve the commercial core of the Parramatta CBD to the north of the existing train station.
Sydney Olympic Park, which is visited by more than 10 million people each year, will also get a second railway station within walking distance of ANZ Stadium in the town centre.
The community will have the opportunity to provide further feedback as part of the statutory planning assessment process, which will be administered by the state Department of Planning, Industry and Environment.
The projected railway is set to be the longest railway tunnels ever built in Australia, and is expected to be the biggest tunnelling contract awarded in Australian history.
Suppliers wishing to express their interest in the procurement of the tunnelling contract for Western Sydney Metro can register their interest on the eTendering website.
About Intelligent Transport
Serving the transport industry for more than 15 years, Intelligent Transport (formerly Eurotransport) is the leading source for information in the urban public transport sector. Covering all the new technologies and developments within this vitally important sector, Intelligent Transport provides high-quality analysis across our core topics: Smart Cities, Digitalisation, Intermodality, Ticketing and Payments, Safety and Security, The Passenger, The Fleet, Business Models and Regulation and Legislation.