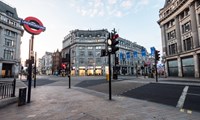 Air Quality News, a site dedicated to providing information regarding air quality and developments in that arena, has analysed Department for Energy, Food and Rural Affairs (Defra) monitoring data for nitrogen dioxide (NO2) in major UK cities, comparing 24 March 2020 with the same day in 2019 (26 March) in order to determine the impact that the COVID-19 'lockdown' has had on air quality and emissions.
Currently, measures in UK require people to stay home, to avoid transport, and to only leave the house for essential tasks such as basic food shopping and essential jobs.
According to the research, Edinburgh saw the largest drop in concentrations from a daily average of 74µg/m3 in 2019 to 28µg/m3 as commuters worked from home and only essential workers were permitted to travel during the lockdown.
London Westminster also saw a somewhat dramatic decrease in NO2 emissions, from 58µg/m3 in 2019 to 30µg/m3 on the same day in 2020.
The research also highlighted other cities that saw drops in NO2 emissions, from Defra's monitoring data:
Cardiff: 32µg/m3 to 21µg/m3
Newcastle: 33 µg/m3 to 28µg/m3
Manchester Piccadilly: 44µg/m3 to 37µg/m3
Liverpool Speke: 20µg/m3 to 13µg/m3
Bristol St Pauls: 35µg/m3 to 30µg/m3
Birmingham A4540: 44µg/m3 to 41µg/m3.
Despite the consistent decreases across the country since the lockdown, the hourly data revealed that rush hour was still a busy for time for commuters; Manchester still saw a peak of 77µg/m3 and Birmingham, 57µg/m3.
About Intelligent Transport
Serving the transport industry for more than 15 years, Intelligent Transport is the leading source for information in the urban public transport sector. Covering all the new technologies and developments within this vitally important sector, Intelligent Transport provides high-quality analysis across our core topics: Smart Cities, Digitalisation, Intermodality, Ticketing and Payments, Safety and Security, The Passenger, The Fleet, Business Models and Regulation and Legislation.