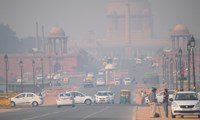 Indian capital Delhi has launched a car rationing system as it attempts to reduce hazardous levels of pollution. Private cars with even and odd number plates will be permitted on roads only on alternate days from 4-15 November, officials have announced.
Levels of dangerous particles in the air – known as PM2.5 – are considered far higher than recommended, which puts millions of people at risk of illness. PM2.5 levels were recorded at three times the 'hazardous' level on the global air quality index (AQI) and some areas were recorded to be seven times higher than in the Chinese capital Beijing, which has struggled with severe air pollution in the past.
Health officials have asked people to stay indoors and refrain from doing any physical activity. Schools are temporarily closed, construction site shave been closed and flights were cancelled due to visibility concerns, and the shutdown is likely to be extended as the city continues to exist under a blanket of smog.
Delhi Chief Minister Arvind Kejriwal has said the car rationing system, known as the 'odd-even plan', would take hundreds of thousands of cars off the road.
Hundreds of teams from the police, the transport department and civil volunteers have been deployed to enforce the rule. It is predicted to put extra pressure on the public transport system, so officials have announced extra buses and metro services.
The restrictions are in place from 8am to 8pm from Monday to Saturday and will also apply to cars coming from outside the city.
Unlike previous years – where the same system was implemented – vehicles that run on clean fuel like CNG (compressed natural gas) will not be allowed, though electric vehicles are still exempt.
Public transport, emergency vehicles, taxis, two-wheelers, disabled drivers and women driving alone will also be exempt from the rule.
Those found breaking this rule will be fined 4,000 rupees (£44), which has doubled from previous attempts of the system.
Apart from road pollution, a major cause of the high pollution levels is farmers in neighbouring states burning crop stubble to clear their fields, which creates a mix of particulate matter – carbon dioxide, nitrogen dioxide and sulphur dioxide – all worsened by fireworks set off during the Hindu festival Diwali.
About Intelligent Transport
Serving the transport industry for more than 15 years, Intelligent Transport (formerly Eurotransport) is the leading source for information in the urban public transport sector. Covering all the new technologies and developments within this vitally important sector, Intelligent Transport provides high-quality analysis across our core topics: Smart Cities, Digitalisation, Intermodality, Ticketing and Payments, Safety and Security, The Passenger, The Fleet, Business Models and Regulation and Legislation.