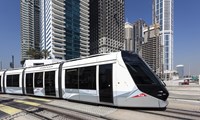 Dubai's Roads and Transport Authority (RTA) has announced that the number of its completed transactions through its smart applications reached 882,428 transactions during the first quarter of 2020. This is compared to the same period in 2019, in which the number of transactions reached 638,709, representing an increase rate of 38 per cent.
The authority stated that the increase in the rate of use and reception of customers on digital channels reflects the success in implementing its strategy for digital transformation and keeping pace with the fourth industrial revolution. It suggested that its desire to provide its services to the public and reduce the time and effort needed to complete the transaction has been reflected in the figures compared with 2019.
The commission clarified that the high demand by customers on the automatic spokesperson available on the authority's website, the authority's application and the WhatsApp platform contributed to reducing the pressure on the authority's call centre where the number of talks completed during the first quarter of the current year is estimated at 102,177 conversations compared to 50,639 conversations during the year 2019, an increase of 101 per cent.
"We are always seeking to motivate dealers to use smart channels, to achieve a number of goals, including reducing the number of customers happiness centres, which reduces the carbon footprint resulting from the movement of vehicles, and enhancing Dubai's strategy for paperless transactions, in addition to the clear effectiveness that resulted in these applications. We have also implemented the precautionary and preventive measures adopted by the state and the Emirate of Dubai in facing the challenges of the spread of the emerging coronavirus at the state and world level, which include avoiding gatherings, social separation and staying at home," an RTA spokesperson said.
About Intelligent Transport
Serving the transport industry for more than 15 years, Intelligent Transport is the leading source for information in the urban public transport sector. Covering all the new technologies and developments within this vitally important sector, Intelligent Transport provides high-quality analysis across our core topics: Smart Cities, Digitalisation, Intermodality, Ticketing and Payments, Safety and Security, The Passenger, The Fleet, Business Models and Regulation and Legislation.