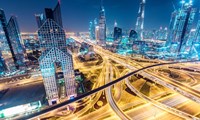 HE Mattar Al Tayer, Director General and Chairman of the Board of Directors of Road and Transport Authority (RTA), has announced the completion of projects within Dubai which go towards smart city credence through the artificial intelligence programme which has been running in the country. The programme was divided between smart enterprise projects, infrastructure and smart vehicles, data management and artificial intelligence, and smart and sustainable transportation.
Al Tayer supports the RTA initiative to transform Dubai into a smart city that improving its population's wellbeing by providing world-class services. Given the importance of smart mobility as one of the pillars of smart cities, the RTA has focused on implementing this throughout Dubai as a top priority in planning and implementing projects.
The authority has completed a number of smart projects and initiatives, the most important of which is the regulator system, to monitor the condition of drivers in 300 buses. This monitoring contributed to a 65 per cent reduction in accidents which occur as a result of exhaustion in drivers. The daily rate of fatigue or lack of attention monitored by the system registered between five and eight cases a day and consequently, the authority has also begun to install the surveillance cameras in all of Dubai's more than 10,000 vehicles. As a result of the cameras, passenger satisfaction increased by 83 per cent.
In addition, the RTA has also completed the third phase of the Automated Bus Track Control System, which has reduced the number of normal vehicles in the bus lane by 83 per cent and has improved efficiency of the bus schedule by 20 per cent. Moreover, smart pedestrian signal systems have been installed in 15 locations. These are equipped with smart sensors that can adapt the time allocated to pedestrians based on the movement of people.
Furthermore, the authority has installed an intelligent parking reservation system, which enables passengers to obtain a good parking spot for a vehicle and book it before arriving at the parking area.
About Intelligent Transport
Serving the transport industry for more than 15 years, Intelligent Transport (formerly Eurotransport) is the leading source for information in the urban public transport sector. Covering all the new technologies and developments within this vitally important sector, Intelligent Transport provides high-quality analysis across our core topics: Smart Cities, Digitalisation, Intermodality, Ticketing and Payments, Safety and Security, The Passenger, The Fleet, Business Models and Regulation and Legislation. With articles from across the globe, we explore how and why industry decision makers operate the way they do, and examine how technology is changing the dynamics of transport.