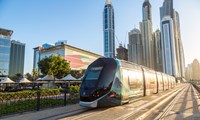 Dubai Roads and Transport Authority (RTA) and Etisalat, the telecommunications services provider, have signed a Memorandum of Understanding (MoU) to enhance their cooperation in a host of technology fields. The MoU opens more prospects for using 5G network and the Internet of Things (IoT) in a variety of applications related to RTA's business.
Abdul Aziz Al Falahi, CEO of Corporate Technology Support Services Sector, signed on behalf of RTA; and Abdulla Ibrahim Al Ahmed, Senior Vice President, Government Sales, signed on behalf of Etisalat.
Al Falahi said: "The signing of the MoU is in line with RTA's efforts to keep pace with the government's drive to adopt the Fourth Industrial Revolution (4IR). Enhanced cooperation with reputed global entities will help us realise our strategic objectives of raising the profile of Dubai amongst top smart cities. The MoU calls for initiatives to improve mobility and transit safety in Dubai, and joint efforts to explore the use of 5G internet in transport and communication."
"The MoU calls for using the IoT, Connected Autonomous Vehicles, artificial intelligence, drones, machine learning, big data and blockchain technologies. It also calls for Etisalat to take part in technical sessions with various RTA departments to identify areas for the use of technologies to come up with new solutions and services capable of overcoming business challenges and improving productivity and efficiency for the benefit of RTA," he added.
Al Ahmed explained how RTA want to allow the corporate sector access to the latest technologies and digital solutions which could help realise their objectives.
"We are looking forward to the day of working with RTA in developing technologies and initiatives through using 5G network to expedite the digital drive envisioned by UAE leaders. The technology will also enable RTA to play a leading role in autonomous mobility solutions and delivering innovative services in modern mass transport, which will have a significant bearing on improving the daily life of people," he concluded.
About Intelligent Transport
Serving the transport industry for more than 15 years, Intelligent Transport (formerly Eurotransport) is the leading source for information in the urban public transport sector. Covering all the new technologies and developments within this vitally important sector, Intelligent Transport provides high-quality analysis across our core topics: Smart Cities, Digitalisation, Intermodality, Ticketing and Payments, Safety and Security, The Passenger, The Fleet, Business Models and Regulation and Legislation.