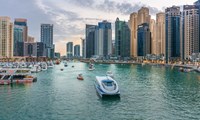 Dubai's Roads and Transport Authority (RTA) is implementing the seasonal network operation initiative for maritime transportation after completing its project to automate the system of tickets through the use of big data.
This includes all information related to maritime transportation services including the number of passengers, and revenue and occupancy rates achieved, which aims to enrich studies on service development and improve network efficiency.
Mohamed Abu Bakr Al Hashemi, Director of Maritime Transport Department at the Public Transport Agency at the Roads and Transport Authority, said: "The initiative to automate maritime transport tickets through the use of big data has given us more flexibility to prepare for the implementation of the seasonal network initiative for maritime transport."
"The methodology of studying this project included using the method of predictive analysis in analysing the data of the maritime transport network, where the impact of the changes and the flexibility of the network in the operating times and the frequency of trips on the number of passengers, occupancy rates, revenue and number of passengers of maritime transport were expected. With this project, we developed internal algorithms to analyse and process big data from multiple sources and develop a flexible operating plan for the maritime transport network that can also be used to analyse future data in this sector."
"We have developed a flexible seasonal network for maritime transport services that includes the summer and winter months, the holy month of Ramadan, holidays and events in the Emirate of Dubai, so that they are applied in each season separately."
Al Hashemi expects that the flexible seasonal network initiative for maritime transport will reduce the number of unnecessary trips, reduce direct operational costs, and increase the percentage of sea transportation occupancy affiliated to the authority.
About Intelligent Transport
Serving the transport industry for more than 15 years, Intelligent Transport is the leading source for information in the urban public transport sector. Covering all the new technologies and developments within this vitally important sector, Intelligent Transport provides high-quality analysis across our core topics: Smart Cities, Digitalisation, Intermodality, Ticketing and Payments, Safety and Security, The Passenger, The Fleet, Business Models and Regulation and Legislation.