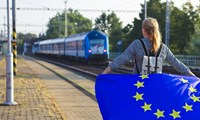 The European Commission has approved an investment package worth more than €1.4 billion of EU funds in 14 large infrastructure projects in seven member states, namely Croatia, Czechia, Hungary, Poland, Portugal, Romania and Spain. The projects cover several key areas such as environment, health, transport and energy for a smarter, low-carbon Europe.
Some of the European transport projects include:
Improving Croatia's rail network
Over €119 million from the Cohesion Fund will finance the purchase of 21 new electric trains to boost service quality, reduce delays and encourage more people to use a sustainable transport type. This project aims to contribute to modernise the country's rolling stock and to improve connectivity and mobility with positive economic consequences.
Better transport services in Poland
Almost €85 million from the European Regional Development Fund is being allocated to improve public transport in Olsztyn by extending the existing tram and bus routes and installing an intelligent transportation system. This aims to encourage more to use public transport, reducing congestion with positive urban environmental consequences.
The Cohesion Fund will invest more than €38 million to modernise the tram network in Bydgoszcz, in the Kujawsko-Pomorskie region. Thanks to this project, around 350,000 inhabitants will reportedly profit from increased comfort and accessibility for people with reduced mobility as well as reduced traffic and greenhouse emissions.
Additionally, with an investment of over €76 million from the European Regional Development Fund, Poland will modernise four railway lines for a total length of almost 52km in the Śląskie region. This aims to reduce travel time and air pollution while ensuring smoother rail interoperability and safety.
Upgrading public transport in Portugal
The Cohesion Fund will invest €107 million to upgrade Porto's metro line system. This aims to make the city's public transport more appealing, reduce traffic and pollution and guarantee safer, faster and more comfortable journeys for passengers.
Improving rail connection in the Atlantic corridor
The European Regional Development Fund will invest €265 million to improve over 178km of the rail connection in the 715km Madrid-Lisbon high-speed line, and especially in the Extremadura area. This hopes to benefit long distance goods and passenger transport with positive economic and environmental benefits. This project is part of the TEN-T network's Atlantic Corridor connecting South West Europe to the rest of the EU.
About Intelligent Transport
Serving the transport industry for more than 15 years, Intelligent Transport is the leading source for information in the urban public transport sector. Covering all the new technologies and developments within this vitally important sector, Intelligent Transport provides high-quality analysis across our core topics: Smart Cities, Digitalisation, Intermodality, Ticketing and Payments, Safety and Security, The Passenger, The Fleet, Business Models and Regulation and Legislation.