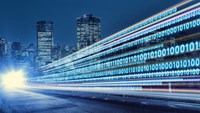 As innovations such as automated vehicles (AVs), artificial intelligence (AI) and Mobility-as-a-Service (MaaS) reshape public transport, digital transformation and the importance of data is said to be more prevalent than ever. People's mobility habits are evolving, and behaviours are being transformed as new forms of mobility are encouraged.
Services such as ride-hailing, car and bike-sharing and shared e-scooters have progressed – yet, none of these new mobility services would meet the needs of people and society without capitalising on the massive amount of data produced by the public transport sector, according to the International Association of Public Transport (UITP).
As such, UITP has announced the launch of the EU-funded Data4PT project. The project aims to support the development of data exchange standards and models to fulfil the needs of multimodal travel information service providers. "Data4PT aims to contribute to a seamless door-to-door travel ecosystem across Europe that covers all mobility services. This will make it easier for providers to deploy services and meet the ever-changing mobility demand and behaviour of citizens. UITP is pleased to work with 10 other partners on Data4PT alongside a large number of interested stakeholders and experts," said Guido Di Pasquale, Deputy Director – Knowledge and Innovation, UITP.
As new mobility players enter the market, large amounts of data is collected by the many providers to enhance their services, and the project looks to form improved collaboration between these players. UITP will be working with ITxPT and 9 EU member states on Data4PT, and the project will last for four years.
About Intelligent Transport
Serving the transport industry for more than 15 years, Intelligent Transport is the leading source for information in the urban public transport sector. Covering all the new technologies and developments within this vitally important sector, Intelligent Transport provides high-quality analysis across our core topics: Smart Cities, Digitalisation, Intermodality, Ticketing and Payments, Safety and Security, The Passenger, The Fleet, Business Models and Regulation and Legislation.