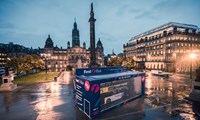 First Glasgow has unveiled the first of their new state-of-the-art vehicles in a unique yellow and purple livery and turned the first one off the production line into the world's largest model bus display.
The first batch of the fleet of 75 new buses for the city of Glasgow, which represents a £14 million investment in vehicles built by Alexander Dennis Limited, will now go into service initially on the 75 route from Castlemilk to Milton with new buses to be launched onto other routes in the coming weeks and months.
First Glasgow Managing Director, Andrew Jarvis, said: "These new buses represent a significant investment for the city of Glasgow and are just the start of wide-scale improvements that we are making throughout the business to improve our services and provide a better standard for everyone in the city. Hopefully even more people will now sample our new buses and see it as a real viable alternative to using the car."
"We are happy to say that this new investment means we will be fully compliant with phase one of the Glasgow Low Emissions Zone (LEZ) Traffic Regulation Condition. We now look forward to working in close partnership with Glasgow City Council to not only deliver the next phase of the process, but also to improve bus services and help make public transport more attractive to more people in Glasgow."
These new low-emissions vehicles will enter into service in time for the new city-wide low emissions zone coming into effect from December 2018.
The new Double Decker MMC 400 buses offer an improved customer experience with USB charging points, comfortable e-leather seating and free Wi-Fi, and are fitted with the latest Euro VI diesel particle filter and start/stop engine technology to offer a more eco-friendly journey.
Of course, customers can pay on the bus, by contactless, mobile ticketing or smartcard payment types. The First Bus planner app also gives customers the opportunity to plan their journeys in advance for any bus or train service in the UK with real-time data.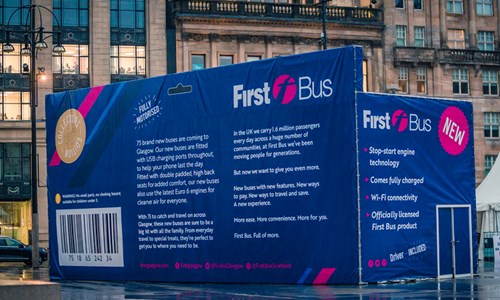 First Glasgow are now pledging to continue to improve their offerings throughout their Glasgow network and are keen to work in close partnership with Glasgow City Council to deliver a better bus service for the city.
Councillor Anna Richardson, City Convenor for Sustainability and Carbon Reduction, said: "Delivering cleaner air is a priority for our city and I'm delighted that Glasgow will have in place Scotland's first Low Emission Zone by the end of 2018. Glasgow's LEZ will reduce harmful vehicle emissions and make our vibrant city centre a safer and more pleasant place to be."
"The bus industry has worked closely with the council to ensure delivery of the first phase of the LEZ. Partnership working is key and we'll continue to work together to improve services which are vital to the lives of Glaswegians."
"Whilst the first phase of Glasgow's LEZ applies to local service buses only, we're committed to improving air quality and by the end of 2022, the strict exhaust emission standards required to enter Glasgow's LEZ will apply to all vehicles."
Cabinet Secretary for Transport, Infrastructure and Connectivity, Michael Matheson, said: "Bus services play an important part in our transport system and the Scottish Government is working in partnership with operators to improve the environment and air quality in our towns and cities with greener fleets."
"We are providing support for operators, including First Glasgow, to push beyond normal diesel to greener technologies through the Green Bus Fund and Bus Services Operators Grant, ensuring that buses continue to keep Scotland moving while addressing air quality issues and climate change."
About Intelligent Transport
Serving the transport industry for more than 15 years, Intelligent Transport (formerly Eurotransport) is the leading source for information in the urban public transport sector. Covering all the new technologies and developments within this vitally important sector, Intelligent Transport provides high-quality analysis across our core topics: Smart Cities, Digitalisation, Intermodality, Ticketing and Payments, Safety and Security, The Passenger, The Fleet, Business Models and Regulation and Legislation. With articles from across the globe, we explore how and why industry decision makers operate the way they do, and examine how technology is changing the dynamics of transport.