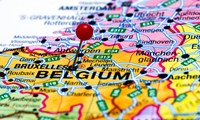 The Flemish Minister for Mobility and Public Works, Lydia Peeters, has announced the investments within her policy area for 2020. In 2020, no less than €2.2 billion in investments will reportedly be provided across all entities of the Mobility and Public Works policy area.
"My policy domain is pre-eminently a domain with many public contracts and investments, and they are an important engine of our Flemish economy. That is precisely why we maintain that high investment rhythm in 2020, despite the coronavirus crisis. We will invest €2.2 billion in 924 different projects. We are thus giving a social and economic boost to the road and hydraulic engineering sector, but also to our entire economy, because everyone benefits from this," Peeters said.
"We have included a number of priority investment projects in the coalition agreement. Think of the ring around Brussels (R0) and the Ring around Antwerp (R1). These are locations that suffer from traffic jams and where the need for infrastructure is great. This naturally requires the necessary investments. €180 million is planned for the project 'Work on the Brussels Ring'. The focus is on the renovation and redesign of the R0, mobi points, bicycle infrastructure and the Brabantnet."
Road safety is said to be a top priority in the policy – in addition to communicating and raising awareness through various campaigns, the investments will see boosts in infrastructure that are considered essential to increase road safety. The minister will earmark €124 million for this.
The Mobility and Public Works policy area manages 1,356 km of motorways, 5,629 km of regional roads, 1076 km of navigable waterways, 2,777 structures (bridges, tunnels and retaining walls) and 7,684 km of bicycle paths.
2020 will reportedly be a record year in terms of investments in rolling stock for public transport, with no less than €83.5 million. €100 million will also be invested in climate and noise measures. This encompasses a whole series of projects: switching from lighting to LED, installing functional plants and noise barriers, tree control, projects within the framework of the Flemish Action Program for Ecological Defragmentation, and so on.
About Intelligent Transport
Serving the transport industry for more than 15 years, Intelligent Transport is the leading source for information in the urban public transport sector. Covering all the new technologies and developments within this vitally important sector, Intelligent Transport provides high-quality analysis across our core topics: Smart Cities, Digitalisation, Intermodality, Ticketing and Payments, Safety and Security, The Passenger, The Fleet, Business Models and Regulation and Legislation.