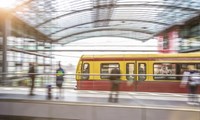 In a bid to promote the use of public transport and contribute to the government's climate plan, Germany is planning to increase subsidies for public transport.
The Federal Ministry of Finance is planning to further finance the operation and development of regional and S-bahn networks, which service German suburban areas, the operation of public buses, improvements to the railways and the purchasing of new trains.
Currently, regionalisation laws state that the annual finance is to be increased by 1.8 per cent every year until 2031.
The funds are now set to increase by €150 million in 2020, by €300 million in 2021 and 2022, and by €450 million by 2023 – a total of around €1.2 billion.
Groups and transport operators have welcomed the announcement, with the Pro-Rail Alliance lobby organisation's Managing Director Dirk Flege, which advocates for a higher market share for rail transport, stating that "the federal government wants to double the number of passengers in local and long-distance transport by 2030 and the additional funds are a step in the right direction."
About Intelligent Transport
Serving the transport industry for more than 15 years, Intelligent Transport (formerly Eurotransport) is the leading source for information in the urban public transport sector. Covering all the new technologies and developments within this vitally important sector, Intelligent Transport provides high-quality analysis across our core topics: Smart Cities, Digitalisation, Intermodality, Ticketing and Payments, Safety and Security, The Passenger, The Fleet, Business Models and Regulation and Legislation.