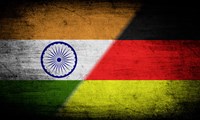 Following a meeting between India's Prime Minister Narendra Modi and German Chancellor Angela Merkel, Germany has agreed to provide India with up to €1 billion in funding to assist the country's greenhouse gas emissions reductions and transition to sustainable e-mobility, a joint statement has announced.
During the meeting, key issues including jointly driving digital transformation through innovation and frontier technologies were discussed, especially in regards to "artificial intelligence, making economic growth sustainable by cooperating on climate change, creating space for people to people contacts through legal mobility for skilled labour, and contributing to a reliable international order by strengthening and updating multilateral institutions," the statement said.
"For both countries, the Sustainable Development Goals and the Paris Agreement serve as guiding frameworks in their cooperation," the statement continued. "They underlined that for a successful energy and transport transition in India and in Germany both countries need to closely cooperate, to learn from each other and to capitalize on the economic potential of climate protection."
The meeting also discussed low-carbon and sustainable mobility solutions with both sides agreeing to "foster cooperation on low-carbon mobility solutions". The two countries also welcomed the signing of the new Joint Declaration of Intent on the Indo-German Partnership on Green Urban Mobility "wherein the German side expressed its readiness to provide additional concessional finance of €1 billion to support improvements of green urban mobility infrastructure and services and strengthen capacities of national, state and local institutions to design and implement sustainable, inclusive and smart mobility solutions in Indian cities".
"Furthermore, both sides acknowledged their readiness to support skill development in new, innovative and sustainable technologies such as renewable energy, e-mobility and energy-efficiency and encourage the private sector of both countries to join in these efforts," the statement said.
About Intelligent Transport
Serving the transport industry for more than 15 years, Intelligent Transport (formerly Eurotransport) is the leading source for information in the urban public transport sector. Covering all the new technologies and developments within this vitally important sector, Intelligent Transport provides high-quality analysis across our core topics: Smart Cities, Digitalisation, Intermodality, Ticketing and Payments, Safety and Security, The Passenger, The Fleet, Business Models and Regulation and Legislation.