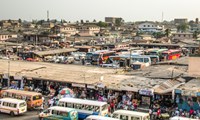 The government of Ghana has signed a concession agreement with Ghana Infrastructure Investment Fund and Africa Investment SkyTrain Consortium Holdings, based in South Africa, in a bid to develop a mass transit system in Ghana's capital, Accra.
The $3 billion Accra SkyTrain, an elevated mono-rail type system, will allegedly be the first of its kind in Africa, and the agreement is said to have marked the next step towards the completion of a bankable feasibility study.
Ghana Investment Promotion Centre CEO, Yofi Grant, said that they are confident the project will come to financial close in 2020, with construction beginning soon after.
President of Ghana, Akufo-Addo, stated that after the deterioration of Ghana's rail infrastructure, "it has become a priority of our government to rehabilitate, revive and expand, and get us a railway infrastructure that is fit for purpose."
The Railways Development Minister, Joe Ghartey, said: "There is confidence in the project. The promoters (Ai SkyTrain Consortium) are very serious, and that is why we invited the President himself to witness the signing. This should assure the investors that Government is solidly behind it. The economics of this project are also good, and we are very excited about the prospects."
Solomon Asamoah, of the Ghana Infrastructure Investment Fund, added that the project will create 5,000 jobs during construction, with more expected to be employed once the system is in operation. Asamoah added that the SkyTrain would not interfere with existing infrastructure, making the process of construction easier and cheaper.
South Africa's Deputy Minister for Transport, Sindisiwe Lydia Chikunga, explained that the project "is a good example of intra-Africa co-operation. It is Ghana-South Africa co-operation, meeting and coming together to deal with the problem of urbanisation, which is facing all our countries."
"We desire our cities to be green and modern, this project will take us there," said African Development Bank President, Akinwumi Adesina.
About Intelligent Transport
Serving the transport industry for more than 15 years, Intelligent Transport (formerly Eurotransport) is the leading source for information in the urban public transport sector. Covering all the new technologies and developments within this vitally important sector, Intelligent Transport provides high-quality analysis across our core topics: Smart Cities, Digitalisation, Intermodality, Ticketing and Payments, Safety and Security, The Passenger, The Fleet, Business Models and Regulation and Legislation.