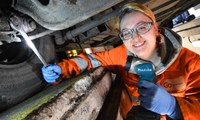 The Go-Ahead Group has marked International Women's Day 2020 by celebrating its progress in attracting more women into the bus industry at every level.
Alongside the fact that over a third (35 per cent) of graduate applications in 2020 came from females – up from 23 per cent in 2019, Go-Ahead stated that successful applicants to the graduate scheme learn all aspects of management: from scheduling services and managing teams to making decisions that impact the two million journeys on Go-Ahead bus services every day.
The group has also reportedly succeeded in employing women in senior leadership positions, with women now accounting for 30 per cent of senior bus roles – an increase from seven per cent in 2015.
Katy Taylor, Go-Ahead Group's Customer & Commercial Director, said: "It's good news to see that one-in-three applications for graduate roles in our bus operations now come from women. There is still a long way to go, but landmark initiatives such as 'Women in Bus' are beginning to make a tangible difference."
"I hope that our progress can inspire fresh commitment across the transport sector as we work together to break down the barriers, challenge the stereotypes and attract women to careers in bus."
In addition, Go-Ahead has seen a significant increase in hiring female apprentices. At Go-Ahead London, 17 per cent of apprentice bus drivers are female. It is also working with Transport for London on a "Women with Drive" project – a pre-employment programme targeted to hiring women into the bus sector.
Currently only 11 percent of Go-Ahead's 15,500 bus employees are female, reflecting the suggested male dominance in the sector, but the company has set a goal to increase representation up to 20 per cent by 2025 – doubling the number of women across the company.
About Intelligent Transport
Serving the transport industry for more than 15 years, Intelligent Transport is the leading source for information in the urban public transport sector. Covering all the new technologies and developments within this vitally important sector, Intelligent Transport provides high-quality analysis across our core topics: Smart Cities, Digitalisation, Intermodality, Ticketing and Payments, Safety and Security, The Passenger, The Fleet, Business Models and Regulation and Legislation.