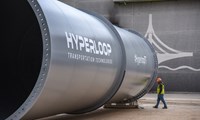 Hyperloop Transportation Technologies (HyperloopTT) has announced the appointment of design and engineering firm Dar Al-Handasah to assist in bringing the Abu Dhabi commercial system to reality.
Dar Al-Handasah joins the project as Design Lead and the latest investor in HyperloopTT. Their team includes Dar Group members Perkins+Will (architects, U.S.), T.Y. Lin International (engineers, U.S.), GPO Group (engineers, Spain) and Currie & Brown (cost management consultants, UK).
Construction of the hyperloop commercial track, as well as HyperloopTT's XO Square Innovation Center and Hyperloop Experience Center, is expected to begin in Q3 2019.
"We are bringing the future of rapid transportation technology to all those living in the UAE," said HyperloopTT Chairman, Bibop Gresta, "This announcement is a testament to the continued commitment and determination of all our partners, both within the UAE and abroad. As we move forward with the system we invite other interested organisations to join us in making history."
Earlier in 2018, HyperloopTT signed an MoU with Aldar Properties, a property development, investment and management company in Abu Dhabi, which, when executed, will allow for the creation of a new HyperloopTT centre.
HyperloopTT CEO, Dirk Ahlborn, said: "With the appointment of Dar Al-Handasah, Perkins+Wills and Currie & Brown, we have achieved a significant milestone towards the construction of the world's first commercial hyperloop system in Alghadeer. We are looking forward to working with all of our regional stakeholders to build this historic piece of transportation infrastructure."
Talal Shair, Chairman of Dar Group, said: "We are extremely honoured to be part of this global movement in mobility and rapid transportation and are looking forward to collaborating with HyperloopTT to deliver a truly iconic project in Abu Dhabi."
About Intelligent Transport
Serving the transport industry for more than 15 years, Intelligent Transport (formerly Eurotransport) is the leading source for information in the urban public transport sector. Covering all the new technologies and developments within this vitally important sector, Intelligent Transport provides high-quality analysis across our core topics: Smart Cities, Digitalisation, Intermodality, Ticketing and Payments, Safety and Security, The Passenger, The Fleet, Business Models and Regulation and Legislation. With articles from across the globe, we explore how and why industry decision makers operate the way they do, and examine how technology is changing the dynamics of transport.