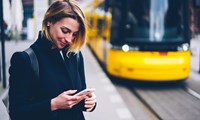 Intel Corporation has announced that it has acquired Moovit, the Mobility-as-a-Service (MaaS) solutions company, for approximately $900 million. Moovit is known for its urban mobility application that offers travellers multimodal trip planning by combining public transportation, bicycle and scooter services, ride-hailing, and car-sharing in 3,100 cities around the world.
"Intel's purpose is to create world-changing technology that enriches the lives of every person on Earth, and our Mobileye team delivers on that purpose every day," said Bob Swan, Intel CEO. "Mobileye's advanced driver-assistance systems (ADAS) technology is already improving the safety of millions of cars on the road, and Moovit accelerates their ability to truly revolutionise transportation – reducing congestion and saving lives – as a full-stack mobility provider."
Mobileye is a growth engine for Intel – a business model which encompasses the entire automated driving value chain – and Intel acquired it in 2017 as the company looked to expand to meet data fuels demand for technology solutions that can process, move and store more data faster and more efficiently. Upon close, Moovit will join the Mobileye business while retaining its brand and existing partnerships.
"Moovit's massive global user base, proprietary transportation data, global editor community, strong partnerships with key transit and mobility ecosystem partners, and highly skilled team is what makes them a great investment," said Professor Amnon Shashua, CEO of Mobileye. "Moovit is a strong brand trusted by hundreds of millions of people globally. Together, with Mobileye's extensive capabilities in mapping and self-driving technology, we will be able to accelerate our timeline to transform the future of mobility."
"We are excited to join forces with Mobileye and lead the future revolution of new mobility services," said Nir Erez, Moovit co-founder and CEO. "Mobility is a basic human right, and as cities become more crowded, urban mobility becomes more difficult. Combining the daily mobility habits and needs of millions of Moovit users with the state-of-the-art, safe, affordable and eco-friendly transportation enabled by self-driving vehicles, we will be able to make cities better places to live in. We share this vision and look forward to making it a reality as part of Mobileye."
About Intelligent Transport
Serving the transport industry for more than 15 years, Intelligent Transport is the leading source for information in the urban public transport sector. Covering all the new technologies and developments within this vitally important sector, Intelligent Transport provides high-quality analysis across our core topics: Smart Cities, Digitalisation, Intermodality, Ticketing and Payments, Safety and Security, The Passenger, The Fleet, Business Models and Regulation and Legislation.