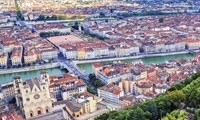 The International Transport Forum (ITF) has released a report which aims to examine how new shared services could change mobility Lyon, France.
The five simulations presented in the report are said to offer insights on how shared mobility can reduce congestion, lower CO2 emissions and free public space.
The analysis also looked at quality of service, cost, citizens' access to opportunities, interaction of shared mobility services with mass public transport and optimal operational conditions for the transition. The findings aim to provide decision makers with evidence to create new shared transport services.
The current mobility demand in the Lyon metropolitan region could be met almost entirely by shared mobility and present public transport systems, reducing private vehicles to only five per cent of the modal share, all of which would be used for carpooling, the report suggested. It claimed that a scenario where carpooling is introduced as an additional shared mobility mode would result in an 87 per cent reduction in the vehicle fleet, as some households would retain their cars.
If only 20 per cent of private car trips were replaced by shared modes, the report claimed that vehicle-kilometres would reportedly fall by 11 per cent and CO2 emissions by 12 per cent.
The report also stated that introducing shared mobility would help optimise the use of existing bus and rail-based networks, including rail, metro and light rail transit (LRT). Were the city to replace underused and inefficient bus routes with a taxi-bus system, the report suggested that shared mobility services could reduce private car use by 20 per cent and result in a 12 per cent reduction of CO2 emissions and a 16 per cent reduction in congestion.
A survey for this study found that most citizens are willing to use shared modes for direct trips or to access high capacity public transport. The majority of current public transport users said they are willing to pay a higher ticket price for the new service and most car users expected shared mobility fares to be lower than the current cost of using a private car.
The report recommended for Lyon to:
Integrate shared mobility services into the Lyon metropolitan region transport system
Create pilot projects and public awareness campaigns to achieve scale of service
Shared mobility services should be scaled for effectiveness
Integrate shared services as feeders to public transport and make taxi-buses part of the bus network
Ensure that transport infrastructure is adapted to meet the growing demand
Create legal and regulatory frameworks that encourage the uptake of shared mobility services to deliver societal benefits.
The full report can be found here.
About Intelligent Transport
Serving the transport industry for more than 15 years, Intelligent Transport is the leading source for information in the urban public transport sector. Covering all the new technologies and developments within this vitally important sector, Intelligent Transport provides high-quality analysis across our core topics: Smart Cities, Digitalisation, Intermodality, Ticketing and Payments, Safety and Security, The Passenger, The Fleet, Business Models and Regulation and Legislation.