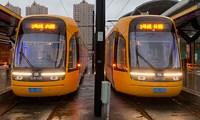 Shanghai Keolis, the joint venture (JV) between Shanghai Shentong Metro Group and Keolis, has opened a new 12.86 km section of metro line.
This brings its total coverage to 27km and it now serves 40 stations across the city's residential areas and its universities, as well as linking up to the Shanghai metro network. The tram network is due to be completed by the end of 2019, by which time it will be 31km long.
Songjiang is a suburban district of Shanghai with a population of 1.8 million. The project to build a tram network was initiated by the Songjiang Transportation Investment Operation Group in a bid to provide Songjiang residents and visitors with a more sustainable and reliable shared mobility solution, significantly reducing individual car usage in the process.
The tram network is expected to carry some 170,000 passengers per day. The service is currently operated with 30 Alstom-built Citadis trams which run every 10 minutes.
With 141 employees – including drivers, customer service operatives and maintenance technicians – all completely focused on enhancing the passenger experience, the Songjiang tram network is the first to be operated by Shanghai Keolis in China.
The JV operates the first automated metro line of Shanghai – the network Songjiang tramway – and will soon open Shanghai International Airport's new automated metro system, connecting the two existing terminals to two new satellites (nearing completion) as part of an airport extension project.
About Intelligent Transport
Serving the transport industry for more than 15 years, Intelligent Transport (formerly Eurotransport) is the leading source for information in the urban public transport sector. Covering all the new technologies and developments within this vitally important sector, Intelligent Transport provides high-quality analysis across our core topics: Smart Cities, Digitalisation, Intermodality, Ticketing and Payments, Safety and Security, The Passenger, The Fleet, Business Models and Regulation and Legislation. With articles from across the globe, we explore how and why industry decision makers operate the way they do, and examine how technology is changing the dynamics of transport.