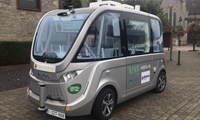 Keolis has announced the launch of a 100 per cent electric autonomous shuttle trial in Han-sur-Lesse; their first trial of autonomous electric shuttles in Belgium.
The NAVYA autonomous electric shuttle will operate in normal traffic conditions on a 500m route in the Cave Domaine of Han-sur-Lesse. The trial will soon be extended to cover a 1.5km route.
This trial is led in partnership with NAVYA, as well as the Belgian Ministry of Mobility, the Vias institute (the Belgium Road Safety Institute) and the Domaine of Han.
The autonomous electric shuttle is an ideal mobility solution for educational campuses, amusement parks and hospitals. The shuttle is best used to provide a last mile connection solution to complete an existing public transport network. In Han the shuttle will carry visitors from the parking area to the Caves.
The NAVYA autonomous electric shuttle can accommodate up to 15 passengers, including those with reduced mobility, with a dedicated area for wheelchairs. It features Lidar sensors, GPS RTK, odometric system, V2X connection and cameras, which enable the vehicle to detect other vehicles and pedestrians and circulate on open roads. The trial aims to study the reactions of passengers and road users to improve the technology and ensure that it fits seamlessly and safely into the daily life of the city, before being put into operation at other tourist locations.
Keolis is already conducting other trials in partnership with NAVYA. Long term trials are currently being led in France (La Défense, Roissypôle with ADP, Lyon), as well as in the U.S. (Las Vegas), Canada (Candiac), Australia (Melbourne and Adelaide) and now Belgium.
About Intelligent Transport
Serving the transport industry for more than 15 years, Intelligent Transport (formerly Eurotransport) is the leading source for information in the urban public transport sector. Covering all the new technologies and developments within this vitally important sector, Intelligent Transport provides high-quality analysis across our core topics: Smart Cities, Digitalisation, Intermodality, Ticketing and Payments, Safety and Security, The Passenger, The Fleet, Business Models and Regulation and Legislation. With articles from across the globe, we explore how and why industry decision makers operate the way they do, and examine how technology is changing the dynamics of transport.