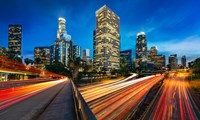 The Los Angeles Department of Transportation (LADOT) has finalised the purchase of 155 zero-emission buses. The buses will be deployed to increase the frequency of service on existing routes and expand to new routes.
"The clean transportation revolution is not a distant vision for the far-off future — it's underway on L.A.'s streets right now," said Mayor Eric Garcetti. "Putting 155 zero-emission buses onto our roads is more than a critical step toward our goal of a fully electric bus fleet by 2030 — it's an investment in cleaner air and a down payment on a more sustainable future."
"If we do not get off fossil fuels, we are killing our kids and their planet. Fortunately, Los Angeles has the ability to make a big impact in combating the climate crisis," said Council Member, Mike Bonin. "Moving to a fleet of electric buses is an important step, and I'm glad to work with Mayor Garcetti and the Electric Bus Coalition to make it happen."
"Los Angeles is making a bold investment in a clean transportation future," said LADOT General Manager, Seleta Reynolds. "These 155 buses will save the city money on fuel costs and improve air quality and health for families across the region we serve." 130 of the buses were purchased from local manufacturer BYD, reportedly representing the largest single electric bus purchase in the U.S. to date.
25 additional buses were purchased from local manufacturer Proterra. The purchase was funded using grants from the Federal Transit Administration (FTA), the Transit and Intercity Rail Capital Program (TIRCP), the California Hybrid and Zero-Emissions Truck and Bus Voucher Incentive Program (HVIP), Transformative Climate Communities (TCC), Low Carbon Transit Operations Program (LCTOP), Mobile Source Air Pollution Reduction Review Committee (MSRC), and city matching funds. Delivery and deployment of the buses will begin March 2020 and through 2021.
About Intelligent Transport
Serving the transport industry for more than 15 years, Intelligent Transport is the leading source for information in the urban public transport sector. Covering all the new technologies and developments within this vitally important sector, Intelligent Transport provides high-quality analysis across our core topics: Smart Cities, Digitalisation, Intermodality, Ticketing and Payments, Safety and Security, The Passenger, The Fleet, Business Models and Regulation and Legislation.