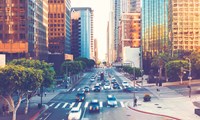 Transport for London (TfL) and the City of Los Angeles have signed an agreement to become 'Innovator Cities' – enabling greater collaboration to tackle some of the biggest transportation issues facing cities around the world.
Both are considered global cities which have large, growing populations and their success has presented many of the same transport problems, such as congestion, air pollution and road danger.
The agreement aims to enable the cities to work together to develop innovation challenges, identifying where similar problems exist and making sure that solutions developed in either city can work elsewhere in the world. The agreement also gives companies the opportunity to take part in 'start-up exchanges', which would allow start-ups to pitch their ideas in both London and Los Angeles (LA). This aims to ensure that both cities can benefit from the best ideas to their common issues.
The approach will be first trialled through the London FreightLab Innovation Challenge, which launched in January 2020. London FreightLab is calling for the best innovators in the UK to come up with ideas which make freight in London safer, cleaner and more efficient. Through the new agreement, the winning innovators could be given the opportunity to pitch their solution to the Mayor's Office for the City of Los Angeles, for the opportunity to go and test their idea in another global city.
Mayor of London, Sadiq Khan, said: "London and Los Angeles are two of the world's boldest and most innovative cities, so it makes perfect sense for us to join forces with the aim of addressing some of the biggest transport challenges facing us today. Working together enables us to share best practice, promote new ideas and find pioneering solutions that could be replicated in other cities around the globe."
Los Angeles Mayor, Eric Garcetti, added: "Los Angeles is a global hub for transportation innovation – and we are ready to test-drive new ideas, inventions, and innovations on our streets and in our neighbourhoods right now. Our partnership with London is about putting the best concepts in the world onto our local roads and railways, taking steps together to help us reduce traffic, cut carbon emissions and build resilient cities for the future."
About Intelligent Transport
Serving the transport industry for more than 15 years, Intelligent Transport is the leading source for information in the urban public transport sector. Covering all the new technologies and developments within this vitally important sector, Intelligent Transport provides high-quality analysis across our core topics: Smart Cities, Digitalisation, Intermodality, Ticketing and Payments, Safety and Security, The Passenger, The Fleet, Business Models and Regulation and Legislation.