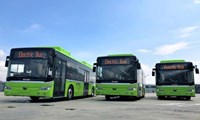 In a bid to move towards a 100 per cent cleaner energy public bus fleet by 2040, the Land Transport Authority (LTA) in Singapore has said it will progressively deploy electric buses for passenger service from early 2020.
This will consist of 60 electric buses procured under a tender awarded in October 2018, which will arrive in Singapore from the fourth quarter of 2019 to the first half of 2020. It also includes one electric bus retrofitted from a diesel bus as a proof-of-concept trial to determine the feasibility of converting existing diesel buses to electric buses.
When the electric buses are deployed, the CO2 carbon emissions from buses will reportedly be reduced by approximately 7,840 tonnes annually, which is equivalent to the annual CO2 carbon emissions of 1,700 passenger cars.
LTA has also said that passengers can expect quieter bus journeys. With an electric motor, the ambient noise level of an electric bus is around 75 decibels, 3 decibels lower than that of a typical Euro VI diesel bus in its current fleet.
The buses will also be equipped with passenger information display systems to provide commuters with route specific information, such as upcoming bus stops and destinations.
With the deployment of electric buses, the Certification for Technical Specialist (CTS) assessment will be updated to cover the new bus system. The Singapore Bus Academy is also working with the bus suppliers to conduct training programmes to equip the workforce with the necessary skillset to operate and maintain such buses.
About Intelligent Transport
Serving the transport industry for more than 15 years, Intelligent Transport (formerly Eurotransport) is the leading source for information in the urban public transport sector. Covering all the new technologies and developments within this vitally important sector, Intelligent Transport provides high-quality analysis across our core topics: Smart Cities, Digitalisation, Intermodality, Ticketing and Payments, Safety and Security, The Passenger, The Fleet, Business Models and Regulation and Legislation.