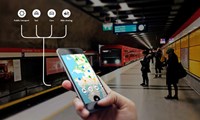 MaaS Global has recently completed a funding round which secured a total of €9 million.
The organisation's Whim app is the world's first mobility service which allows users to book and pay for all mobility offerings in one app for one monthly fee and currently operates in the Helsinki region in Finland, West Midlands in UK and Antwerp in Belgium.
"We are extremely happy that we have been able to prove the MaaS concept really works. Our investors believe in our growth and they wanted to invest more to give us the opportunity to scale and grow faster. Now we are able to strengthen our global presence and continue as one of the fore runners in this new and exciting industry," said Sampo Hietanen, Founder and CEO of MaaS Global.
Thanks to the successful funding round, MaaS Global will continue to expand the service to more regions, both in home-country Finland and in new market territories across the globe. With this funding, MaaS Global is in a great position to repeat their success in new markets and grow the brand's presence.
"We have succeeded because of our amazing team. We have also been able to build a working model with our partners. There is no way we could have done this without our own team's hard work and the support from our partners," concluded Hietanen.
About Intelligent Transport
Serving the transport industry for more than 15 years, Intelligent Transport (formerly Eurotransport) is the leading source for information in the urban public transport sector.