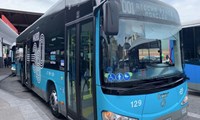 The Mayor of Madrid, José Luis Martínez-Almeida, accompanied by the delegate of the Mobility and Environment Area of the Madrid City Council, Borja Carabante, has inaugurated the first zero line of the Municipal Transport Company (EMT).
The zero line – zero emissions and zero cost for users – is one of the main measures included in the new Madrid 360 Environmental Sustainability Strategy, a key tool which aims to boost the corporation's compliance with the European directive on air quality.
The first zero line bus has started operation under the name '001 Atocha Renfe-Moncloa', and connects two primary intermodal points in Madrid.
To provide the service of this route, which will cover more than 350,000 kilometres per year, the EMT has planned an endowment of ten Irizar ieBUS electric buses. This model, said to be quiet and respectful to the environment, has a capacity for 75 passengers and a range of 200 to 250 kilometres depending on the driving cycle and atmospheric conditions. This figure would be equivalent to about 17 hours circulating in the city.
The Madrid bus line has a frequency of between seven and eight minutes of passage on weekdays in the time zone of greatest demand. Its schedule extends from 7:00 a.m. in both headers until 11:30 p.m. in Moncloa and 11:00 p.m. in Atocha.
During the first week of operation, EMT workers will report in the headers and along the route about the existence of the zero line with information leaflets on its operation.
The second zero line, 002, which will be inaugurated next March, will cross part of the Centro district from Argüelles to Puerta de Toledo. The service will be provided from 8:00 a.m. to 9:00 p.m. in Argüelles and until 8:45 p.m. in Puerta de Toledo, with a maximum frequency of approximately ten minutes.
About Intelligent Transport
Serving the transport industry for more than 15 years, Intelligent Transport is the leading source for information in the urban public transport sector. Covering all the new technologies and developments within this vitally important sector, Intelligent Transport provides high-quality analysis across our core topics: Smart Cities, Digitalisation, Intermodality, Ticketing and Payments, Safety and Security, The Passenger, The Fleet, Business Models and Regulation and Legislation.