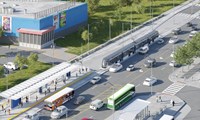 Infrastructure Ontario and Metrolinx have awarded the Mobilinx Consortium a contract worth €3.15 billion for the Hurontario Light Rail Project in the Toronto, Canada area. The Mobilinx team will lead the design, construction, financing, operation and maintenance of the light rail system for the next 30 years.
Hurontario Light Rail is an 18km, 19-stop light rail system that runs along Hurontario Street from Port Credit in Mississauga to the Gateway Terminal south of Brampton. The tram will be operated in its own right with a traffic priority system on most of its route.
At the peak of construction, Mobilinx estimates that there will be approximately 800 workers on the project, with up to 80 per cent being GTHA (Greater Toronto Hamilton Area) labour.
The roles of the Mobilink Consortium are as follows:
Applicant Lead: John Laing Investments Limited, Astaldi Canada Enterprises Inc., Hitachi Rail STS S.p.A., Transdev North America Inc., Amico Concessions Inc., Salini Impregilo Canada Holding Inc.
Construction: Astaldi Canada Design & Construction Inc., Hitachi Rail STS Canada Inc., Amico Infrastructures Inc., Bot Infrastructure Ltd., Salini Impregilo Civil Works Inc.
Design: IBI Group Professional Services (Canada) Inc., Hitachi Rail STS S.p.A., Morrison Hershfield, Arcadis Canada Inc., Daoust Lestage Inc., Exp Services Inc.
Operation Maintenance & Rehabilitation Provider: Transdev Services Canada Inc., Hitachi Rail STS Canada Inc., Astaldi Canada Enterprises Inc., Salini Impregilo S.p.A.
Financial Advisor: National Bank, HSBC
Metrolinx said: "Hurontario is an important corridor for the future of Mississauga and Brampton. The LRT will transform Hurontario into a vibrant people-oriented corridor connecting communities and accommodating growth anticipated over the next 30 years. A reliable and convenient transit system through this corridor will be a means to effective, sustainable economic and residential growth. The project will mean a doubling of the corridor's capacity to move people, significantly improved transit times, and serve as a crucial link between many of the region's existing transit lines."
In addition to the construction of the light rail, the project will include a raised cycle path on both sides of Hurontario Street between Steeles and the Queensway.
With an open date planned for 2024, the Hurontario Light Rail is expected to move up to 14 million passengers per year.
About Intelligent Transport
Serving the transport industry for more than 15 years, Intelligent Transport (formerly Eurotransport) is the leading source for information in the urban public transport sector. Covering all the new technologies and developments within this vitally important sector, Intelligent Transport provides high-quality analysis across our core topics: Smart Cities, Digitalisation, Intermodality, Ticketing and Payments, Safety and Security, The Passenger, The Fleet, Business Models and Regulation and Legislation.