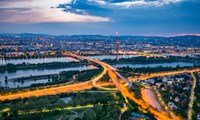 The Austrian capital of Vienna has become the first metropolis in Central Europe where the Finnish company MaaS Global will launch its Whim mobility app. Whim has already been launched in Helsinki, Finland (winter 2017), in Birmingham/England (spring 2018) and in Antwerp/Belgium (autumn 2018).
With a single app that combines public and private transport, users have access to the services of different transport providers and the ability to manage all tickets from one location.
"Whim's MaaS concept aims to sustainably support the daily mobility needs of Greater Vienna residents with a single service," said Sampo Hietanen, CEO of MaaS Global. "The Whim mobility app can help change the way more than 2.8 million people in and around Vienna get from A to B."
"Fewer people will own their own automobile in the future, which will result in far less congestion and significantly less pollution. And instead of the frustrating hustle and bustle in the daily traffic chaos on the streets," Hietanen added.
The Whim mobility app was launched in Vienna with three partners: the public transport provider Wiener Linien (five subway lines, 28 tram lines, 129 bus lines and 5,390 stations), the taxi company Taxi 31300 and the City Airport Train (CAT).
In the coming months new partners will reportedly be integrated into the Whim offer in Vienna. Car rental company Hertz and the e-scooter provider Tier are said to be future partners.
Users will initially pay for transport on a pay-as-you-go basis, but MaaS Global has confirmed that it will be launching a subscription model, as it has in Helsinki, Antwerp and Birmingham, in the future.
About Intelligent Transport
Serving the transport industry for more than 15 years, Intelligent Transport (formerly Eurotransport) is the leading source for information in the urban public transport sector. Covering all the new technologies and developments within this vitally important sector, Intelligent Transport provides high-quality analysis across our core topics: Smart Cities, Digitalisation, Intermodality, Ticketing and Payments, Safety and Security, The Passenger, The Fleet, Business Models and Regulation and Legislation.