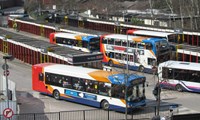 The Transport Committee has launched a wide-ranging inquiry into the bus market in England outside London.
According to annual bus statistics produced by the Department for Transport (DfT), the use of bus services in England is in decline. Although bus use per person has increased significantly in London over the last 25 years (by 52 per cent), it has fallen by 40 per cent in other metropolitan areas.
MPs are going to consider the reliability of bus services, how they are run in metropolitan and non-metropolitan areas, how bus services are financed and examples of innovation and best practice.
The Committee is particularly interested to receive evidence on the effectiveness and ambition of the DfT's bus policies, factors affecting bus use, how bus companies are dealing with congestion and the provision of services to isolated communities in rural and urban areas.
The viability and long-term sustainability of bus services, including the effectiveness of funding, fare structures and public grants, alongside the regulations affecting the provision of bus services are also very important to the Transport Committee.
Chair of the Transport Committee, Lilian Greenwood MP, said: "There are a number of reasons for the sharp decline in bus use in England outside London over the past 25 years. Congestion, car ownership, an increase in online shopping and reductions in local authority subsidies all play a part."
"Our inquiry seeks to gather evidence about the health and future of the bus market. We will look at operational factors including the impact of congestion and reliability. We'll be asking about the most effective models for bus companies. The financing of buses, investment in services, value for money and progress since the Bus Services Act 2017 will all come under consideration."
"Buses are a vital lifeline in many communities but with funding streams falling and fares rising, their availability and attractiveness to the travelling public is under threat. A successful bus market can cut congestion, reduce social isolation, help the environment and offer a variety of economic benefits. I would encourage anyone with insight into this sector to submit evidence."
About Intelligent Transport
Covering all the new technologies and developments within this vitally important sector, Intelligent Transport provides high-quality analysis across our core topics: Smart Cities, Digitalisation, Intermodality, Ticketing and Payments, Safety and Security, The Passenger, The Fleet, Business Models and Regulation and Legislation. With articles from across the globe, we explore how and why industry decision makers operate the way they do, and examine how technology is changing the dynamics of transport. The expansion in technology is part of the reason we've transitioned from Eurotransport to become Intelligent Transport. We will continue to bring you the latest news and views from industry insiders and experts, but with a global reach that will offer insight on developments and projects from all seven continents.