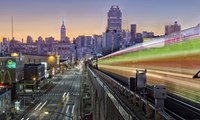 New York's Metropolitan Transportation Authority (MTA) has renewed its commitment to a host of environmentally friendly initiatives to mark the annual Earth Day (22 April 2020).
Every year, the MTA reportedly prevents 19 million metric tonnes of greenhouse gases while emitting two million metric tonnes through its operations. This results in a net 17 million metric tonne annual avoidance, and the MTA is pushing to reduce emissions even further.
"Earth Day serves as an important reminder of just how powerful a role the MTA plays in reducing congestion and making the New York City metropolitan region more livable," said MTA Chairman and CEO, Patrick J. Foye. "Everyone within the MTA's geographic footprint benefits from the critical service we provide because our operations allow everyone in the region to lead more carbon-efficient lives. In these times of crisis, it can be secondary to think about our long term environmental future, but a sustainable region depends on a robust MTA."
The MTA is working to implement Central Business District Tolling, pending Federal approval. It will be the first congestion pricing policy to be initiated in the United States and is designed to improve the environment by reducing automobile traffic and air pollution in a heavily congested area in Manhattan.
In November, the MTA committed to setting a science-based carbon emission target to help keep the global temperature well-below 2°C compared to pre-industrial levels. Work is underway on efforts to set an emissions target, with experts evaluating different pathways that can reduce the Authority's direct, indirect, and supply chain greenhouse gas emissions to lower levels.
In December, the MTA rolled out 10 new electric articulated buses and additional electric buses are expected to hit streets in the coming months, with plans to have an all-electric fleet by 2040.
The MTA is also continuing implementation of regenerative braking pilot in the New York City Subway that involves testing a Wayside Energy Management System that has the capability to store heat energy from braking and use it during peak consumption hours when the electricity from the grid is most expensive and demand on the Con Edison distribution system is at its highest.
About Intelligent Transport
Serving the transport industry for more than 15 years, Intelligent Transport is the leading source for information in the urban public transport sector. Covering all the new technologies and developments within this vitally important sector, Intelligent Transport provides high-quality analysis across our core topics: Smart Cities, Digitalisation, Intermodality, Ticketing and Payments, Safety and Security, The Passenger, The Fleet, Business Models and Regulation and Legislation.