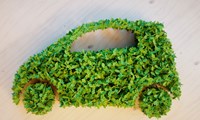 The National Association of City Transportation Officials (NACTO), has announced a partnership with five cities—Atlanta, Boston, Denver, Minneapolis, and Philadelphia—to accelerate the implementation of high-quality bike and transit corridors by the end of 2020. This work, part of the Bloomberg American Cities Climate Challenge, will help the cities meet, or beat, their near-term carbon reduction goals.
With transportation as the largest single sector of carbon emissions in the U.S., tackling climate change from the street up is a highly effective tool for city governments to take environmental action. Over the next 18 months, NACTO, the Natural Resources Defense Council (NRDC), and Delivery Associates will provide technical expertise and implementation assistance to each participating city. This in-depth support will help the cities develop and build high-quality bike or transit corridors designed to attract riders, reduce reliance on single-occupancy vehicles, and confront climate change head on.
The partnerships will build on NACTO's Accelerator model, which helps cities vision, refine, and build internal consensus for bike and transit projects, and gives them the design training necessary to realise their transportation goals. NACTO will provide technical expertise, convene workshops, and create open channels of communication between the participating cities and NACTO's broader network of 82 cities and transit agencies across North America, who will advise and share lessons from completing similar projects in their own communities.
At the end of 2020, when the Climate Challenge is complete, the five cities will have tangible results to show for their participation: a transformative bike or transit project that increases access to low-carbon transportation options, as well as the technical knowledge, internal process alignment, and external support needed to continue building people-first streets at an accelerated pace.
"There's tremendous potential in streets," said Corinne Kisner, Executive Director of NACTO. "At over 80 per cent of urban public space, streets are a vital resource for cities taking climate action. By dedicating more space for high-quality bike and transit lanes, cities can increase access to low-carbon transportation options that are not only attractive, but also safe and reliable. The Climate Challenge cities are doing just this: by committing to these projects, they're tapping into the potential of their streets to build a more equitable low-carbon future."
About Intelligent Transport
Serving the transport industry for more than 15 years, Intelligent Transport (formerly Eurotransport) is the leading source for information in the urban public transport sector. Covering all the new technologies and developments within this vitally important sector, Intelligent Transport provides high-quality analysis across our core topics: Smart Cities, Digitalisation, Intermodality, Ticketing and Payments, Safety and Security, The Passenger, The Fleet, Business Models and Regulation and Legislation. With articles from across the globe, we explore how and why industry decision makers operate the way they do, and examine how technology is changing the dynamics of transport.